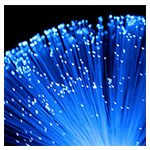 The Institute for Local Self Reliance estimates that there were 63 gigabit deployments by cooperatives in the U.S. as of December 31, 2015. ILSR based its research on Form 477 data that broadband providers submit to the FCC. Using that data, researchers identified about 200 companies advertising gigabit downstream speeds, then narrowed the field down to 63 by checking public sources to determine which providers were cooperatives.
Scanning through the ILSR's list reveals that the majority of the 63 cooperatives are telecom cooperatives. But there are some power cooperatives on the list as well.
ILSR also notes that some companies that have launched gigabit services since the beginning of the year are not on the list. Additionally, researchers suggest that anyone seeking to prepare a more comprehensive list should also check the map of service providers that are Gig certified by NTCA—The Rural Broadband Association.
"Even if a cooperative does not advertise a Gigabit (which means they won't appear on our list), the cooperative still has the ability to provide Gigabit connectivity" and some of those providers may be on NTCA's "Gig certified" map, explained ILSR in a press release about the research on gigabit deployments by cooperatives.
Gigabit Deployments by Cooperatives
Small rural broadband providers have been quite aggressive in launching gigabit services, in part, because many of them already had deployed fiber-to-the-home, which is relatively easy to upgrade to gigabit speeds. Community-owned cooperatives may be particularly motivated to deploy gigabit services because they view those services as a means of boosting economic development opportunities in their communities.
Research conducted by Telecompetitor as of year-end 2015 – the same time frame as the ILSR research – found that gigabit networks had been launched or announced in all 50 states. Generally service providers do not announce gigabit plans for individual markets unless they plan to deploy service in those markets within a year or so, which means that if the U.S. doesn't already have gigabit service available in all 50 states, that should be true soon.
ILSR's full list of cooperatives that have deployed gigabit service can be found in this ILSR blog post. Researchers invite anyone who has corrections to the list to send the corrections to htrostle@ilsr.org.
Image courtesy of flickr user Matthew Wilson.