The Institute for Local Self-Reliance, an advocacy group for local community economic development, has issued a harsh critique of the Connect America Fund program, which pays some or all of a carrier's costs of deploying broadband in rural areas. Despite the CAF program's efforts, large carriers have rarely invested in next-generation services in areas where they do not face competition, according to the ILSR Connect America Fund critique.
"Nationally, cable companies maintain monopolies on high-speed internet access, and the large telecommunication companies, such as AT&T and Frontier, invest mainly where they face this cable competition," writes ILSR in a 40-page report titled "Profiles of Monopoly: Big Cable and Telecom."
To support these assertions, ILSR pulled together a range of data about where broadband at speeds of at least 25 Mbps downstream and 3 Mbps upstream is offered by the nation's largest broadband service providers – including four telcos and two cable companies. As ILSR notes, it's easier for cable companies to deliver 25/3 Mbps service than it is for telcos, who must deploy additional fiber to support higher speeds – and according to ILSR's research, telcos are most likely to invest in high-speed network upgrades where they face competition from cable companies offering higher-speed service.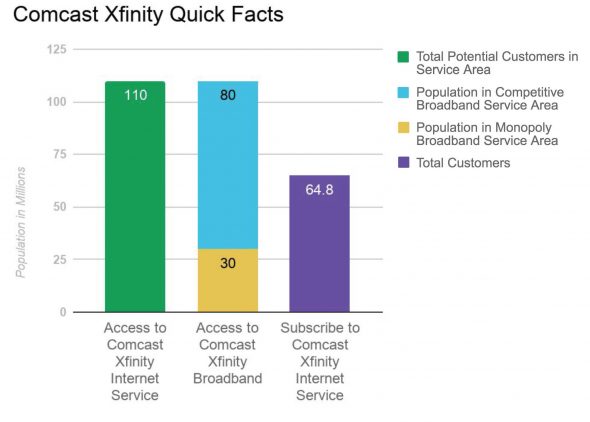 According to ILSR, major telco investments "bring new infrastructure into urban areas, while the rural areas are once again left behind despite federal subsidies for rural internet access."
Behind ILSR's CAF Critique
How the term "broadband" is defined is key to the ILSR's Connect America Fund critique. ILSR defines broadband to include any service supporting speeds of at least 25 Mbps downstream and 3 Mbps upstream – a reasonable definition, considering the needs of a typical household, and which matches the most recent definition used by the FCC in its annual broadband progress report. That's not how broadband is defined for the CAF program, however.
The nation's largest price cap carriers – including AT&T, Verizon, CenturyLink, and Frontier – are only required to deliver service supporting speeds of 10/1 Mbps to meet CAF buildout obligations. They can meet that target with wireless or DSL service — and that reality is at the heart of ILSR's critique.
There are several points worth noting about this.
The Connect America Fund program has its roots in the Universal Service Fund high-cost program, which traditionally covered some of a carrier's costs to deliver voice service in rural areas. As the FCC transitioned that program to focus on broadband, the commission was determined not to exceed the USF high-cost program budget. The 10/1 Mbps target was essentially based on what the commission could afford to spend.
Interestingly, smaller rate-of-return (ROR) carriers have more ambitious speed targets for their CAF program. While 10/1 Mbps is the minimum speed that ROR carriers must deliver in more sparsely populated areas, the minimum speed is 25/3 Mbps in less sparsely populated areas. (The costliest areas are not included in the CAF program for ROR carriers but instead will be addressed in a still-to-be-defined remote areas fund.)
It's also worth noting, though, that while ROR carriers generally are willing to spend additional money above and beyond what they collect through the USF program to make network upgrades, the same is not true of the price cap carriers. When price cap carriers made their decisions about whether to accept CAF funding – and to take on the associated buildout commitments – several of them told their investors that the CAF funding would cover the cost of the buildouts.
All service providers still face annual FCC broadband progress reports, however, and those reports measure progress based on the 25/3 Mbps target. We also hear the 25/3 Mbps target associated with a wide range of technology initiatives on both the wireline and wireless front.
The upshot is that I would expect to see price cap carriers deploying service supporting 25/3 Mbps speeds or higher in CAF areas where they can afford to deliver those speeds at the funding level provided through the CAF program.
What Speeds Will We Actually See?
The question then is how extensive those areas are in comparison with those where the carriers can only afford to support minimum performance targets.
The ILSR footnotes point to several examples of disappointing CAF projects, including:
A report from Blandin Foundation looked at deployments in Minnesota for areas in which Frontier and CenturyLink accepted CAF funding. Although the carriers declined to provide details about the percentage of residents that could get 25/3 Mbps or 10/1 Mbps service, researchers estimated those percentages for Frontier by noting locations of DSLAM cabinets and the number of customers within various distances of those cabinets. Their findings suggested that about 15% of locations have access to 25/3 Mbps service.
An analysis from CCG Consulting looked at a CAF-funded AT&T cellular offering supporting speeds of just 10/1 Mbps with a 160 gigabyte monthly data cap for $60 a month with a contract. According to CCG Consulting, that would only be enough data for a typical household to watch a single one-hour TV show per day.
Reports such as these illustrate the danger of the unambitious 10/1 Mbps minimum speed from a PR perspective, as both analyses question the value of the CAF program.
Against this backdrop, it will be particularly interesting to see the results of the CAF II auction, which kicked off last week and will award up to $2 billion in broadband funding. The auction will use a competitive bidding process to award funding rejected by the incumbent price cap carrier in 20 states. Competitive and incumbent service providers are eligible to bid, with funding going to those who offer to provide service at the lowest cost, based on a weighting system designed to favor projects supporting higher speeds and lower latency.
Here, too, the minimum speed carriers must offer is 10/1 Mbps, but the point system also includes categories for 25/3 Mbps, 100/20 Mbps and 1 Gbps/500 Mbps service. No service provider will be awarded funding greater than what was offered to the incumbent to deliver 10/1 Mbps service, however.
If providers offering 10/1 Mbps service dominate the auction, that could further fuel bad PR about the program. But if there is a strong showing by providers committing to deliver higher speeds, that could call into question whether the price cap carriers are setting the bar high enough for projects already planned or underway.
Image courtesy of flickr user Sean MacEntee.