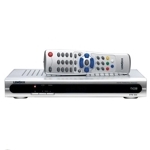 The traditional set-top box (STB) is living on borrowed time, at least for one pay-TV market segment–multiscreen service providers–according to a new report from IHS. Multiscreen service providers are defined by IHS as video service providers who offer pay-TV services across devices other than just the traditional STB connected television. Forty-three of the largest global pay-TV operators now offer multiscreen services, according to IHS.
By 2015, PCs, smartphones, tablets and other so-called multiscreen devices will make up nearly half, or49%, of all devices that view television content. That's up from 18% in 2011. That's not good news for the traditional set-top-box (STB), according to the IHS Screen Digest Multiscreen Intelligence service.  STB market share during the same period will decline to 51% of pay-TV operator devices, a sharp drop from 82% in 2011.
STB use is bound to fall from having an almost exclusive hold on home video consumption devices as the worldwide market's 43 major cable, satellite and Internet Protocol Television (IPTV) providers' multiscreen services deployments progress, according to IHS' findings.
IHS defines multiscreen devices as any that allow video viewing on multiple platforms beyond the traditional STB connected TV. The multiscreen device category now includes a variety of devices, including smartphones, media tablets, other portable media devices, video game consoles, PCs and smart TVs.
"A new era is dawning in the pay-TV industry, one in which subscribers can access television services on the device of their choosing, rather than being limited to using STBs," said Tom Morrod, senior principal analyst, TV Technology, for IHS.
"Consumers desire greater flexibility, demanding access to entertainment on any platform, in any location and at any time. Because of this, cable, satellite and IPTV operators are shifting their focus away from the STB and toward multiscreen deployment. For the 43 major operators tracked by IHS Screen Digest that have deployed multiscreen services, this means that multiscreen devices will supplant STBs as the leading pay-TV access devices by 2016."
The installed base of pay-TV STBs will total 321.7 million units in 2015, up 17% from 274.5 million in 2011, according to IHS' forecast. The number of multiscreen devices actively receiving pay-TV services, in contrast, will grow to 310.1 million, up more than 400% from 60.1 million in 2011.
The installed base of STBs is much larger when pay-TV providers that aren't deploying multiscreen services are incorporated into the figures. Multiscreen operators accounted for about one-half of the global total 538.8 million STBs installed as of 2011. They'll represent even less, about one-third of the total 849 million IHS forecasts for 2015.
PCs were the leading multiscreen device for pay-TV deployments in 2011, with devices based on Apple's iOS mobile operating system ranking second. By 2015, IHS forecasts the number of iOS devices accessing pay-TV services will increase nearly 800%, while PC multiscreen service access will increase at half that rate. Multiscreen video access from Android devices will grow faster yet, rising more than 1,200% over the period, according to IHS.