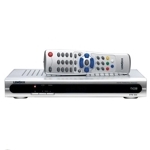 The set-top box (STB) market rebounded strongly in 2013 following three years of essentially flat growth, setting a record-high total in terms of annual revenue, according to the latest market data from IHS Technology. 2013's performance sets the foundation for ongoing growth through 2015, the market research company says.
Digital set-top box revenues totaled a record-high $20.3 billion worldwide in 2013, a three percent year-over-year increase from $19.6 billion in 2012. That's in contrast to relatively flat revenue growth from 2010 to 2012, when revenues had been locked in the $19.5 billion range, IHS highlights.
New STB shipment revenue highs will be set during the next two years, peaking at $22.8 billion in 2015, according to information derived from IHS Technology's latest STB Market Monitor.
Highlights of the latest STB Market Monitor include:
Almost 272M set top boxes were shipped in 2013;
Global set-top box shipments were worth $20.3b in 2013;
Over 25M Ultra High Definition (UHD) STBs will be shipped during 2014 – 2018;
North America:multimedia home gateway transition providing growth
"Set-top boxes proved to be critical to the strategies of pay TV operators in 2013," Daniel Simmons, director for Connected Home research at IHS, was quoted in a press release.
"Far from being pushed out of the living room by Internet-enabled consumer electronics, STBs are being repositioned as the hub of the connected home. STBs increasingly are being transformed into multimedia home gateways (MHG), which combine support for pay-TV services with Internet access, residential gateway services, Wi-Fi and other advanced features."