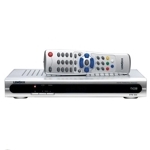 Global shipments of over-the-top (OTT) set-top boxes (STBs) from the likes of Apple, Google and Roku sold at retail shops will oustrip those of IPTV STBs installed by telco pay-TV service providers this year, according to new research from IHS. IHS expects 31 million OTT STBs will be shipped this year as compared to 30 million IPTV STBs, according to a press release.
In its latest Set-Top Box Intelligence Market Monitor, IHS attributes the success of OTT STBs to content strategies employed by leading vendors, which "have been much more aggressive in adding new content sources and apps to their STBs than TV and gaming console vendors."
OTT Set-Top Box Shipments
"OTT STBs were initially written off as a temporary measure for consumers to bring OTT video to TV screens," Daniel Simmons, IHS Technology director of connected home research, was quoted as saying. "It was assumed that smart TVs, Blu-Ray disc players and gaming consoles would eventually take the place of STB devices; however, while consumer adoption of smart devices has grown considerably, OTT STBs have still managed to flourish."
Offering viewers more in the way of personal choice and selective viewing options has been the key to unlocking the door to success for OTT STB vendors, IHS points out. "Ultimately buying a dedicated box enables viewers to choose the OTT services they watch on their TV, rather than simply living with the pre-installed options," he added.
In order to compete, pay-TV providers are taking a page out of OTT vendors' playbooks by supplying their own Internet-connected STBs and OTT video services. "[Pay-TV] operators are increasingly relying on OTT capabilities in their STBs to enable catch-up TV, larger video-on-demand (VoD) libraries, as well as search, recommendation and other content discovery features.
"This level of functionality has become a consumer expectation for pay-TV services. Some Belgacom, Dish Network, Virgin Media and other pay TV operators have even started providing access to Netflix and other OTT video providers' services," IHS points out.
All that said, total global shipments of connectable pay-TV STBs, including cable TV STBs and digital terrestrial television (DTT) satellite STBs as well as telco IPTV STBs "have far outpaced shipments of OTT STBs," according to IHS. The market research company expects connectable pay-TV STB shipments will grow to 169 million units by 2018 as compared to 38 million retail OTT STB shipments.