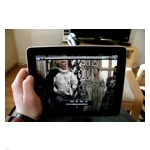 Over 1.7 billion devices capable of accessing Over-The-Top (OTT) broadband content such as Netflix and Hulu are due to ship by the end of 2013, one for every four people on the planet and a 20% rise from 2012's 1.43 billion, according to a new report from IHS.
In its "Consumer Electronics Topical Report," IHS forecasts another 20% rise in OTT-capable devices in 2014 as shipments increase to reach some 2.67 billion units by 2017. That would be an 86% increase from 2012.
The expanding category of consumer electronic devices includes equipment such as set-top boxes (STBs), Blu-ray players, Internet-enabled TVs, game players, digital media adapters including Apple TV and Roku devices, media tablets, PCs and smartphones.
"Content owners, operators and consumers all are driving the proliferation of the OTT model," IHS senior principal analyst, consumer platforms Jordan Selburn was quoted as saying.
"Content owners want to expand the market for the films, music and videos they own. Meanwhile, operators wish to use OTT in order to add value to their services and keep subscribers from cancelling TV subscriptions in favor of purely broadband connections—preventing what the industry calls 'cutting the cord.' Consumers, for their part, desire access to a wide variety of media at the time and place of their own choosing."
Most of those accessing OTT services make use of PCs and smartphones to do so. Together, the two accounted for 836 million of the 1.43 billion OTT-capable devices shipped last year, according to IHS.
The handheld game platform is the only product segment where IHS analysts do not foresee growth in 2013. "Like other single-tasking systems, the space is under attack from more broadly based general-purpose equipment, primarily smartphones and tablets," they point out. "For the same reason, digital media adapters have been slow to gain acceptance, lagging behind other OTT devices and making up less than 1 percent of the total OTT market this year."
Increasingly weighty information processing demands and energy consumption of OTT devices will require development of a new generation of semiconductors, IHS said. Better software alone won't get the job done, according to IHS.
"Such challenges present rich opportunities for semiconductor suppliers as new standards and technologies continue to expand the market," they write. "The introduction of new and innovative technologies will inevitably require a new generation of semiconductors, with advancements made possible only from new silicon."
Image courtesy of flickr user bendodson.