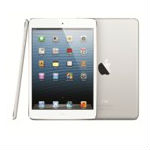 Supply constraints will limit shipments of second-generation iPad minis with Retina Display to less than four million, or possibly, even three million, according to an IHS report. This represents  "as little as one-third of the 8.9 million unit volume of the first-generation iPad mini during the final three months of 2012, the first quarter when that product was sold," IHS observes in a press release.
Actual demand for the original iPad mini over its first three months of availability far exceeded the 8.9 million units actually shipped, "leaving Apple with a huge backlog of orders for the mini at the start of 2013," IHS analysts note. They expect an even bigger backlog for the second generation mini going into 2014.
4Q demand for the new iPad mini is expected to equal or exceed that for the first generation media tablet. "Supply and demand will be severely out of balance," however, due to limited production of the new mini's Retina Display, IHS says.
"Apple is being rather vague about the exact availability date of the new iPad mini with Retina Display, simply stating that the product would ship later in November," IHS director of tablet research Rhoda Alexander commented. "The company has good reason to be coy about the exact release date, given that supply of the new mini is going to be ridiculously tight in the fourth quarter. The heart of the problem is supply constraints on the new Retina panel."
Low yield rates for the 7.9-inch Retina panel is limiting production as production ramps up, according to IHS. "With most of the production occurring late in the quarter and the challenges inherent in the new system design, iPad manufacturing is expected to lag well behind panel production in the fourth quarter."
IHS analysts question Apple management's decision to release both the new iPad mini and iPad Air at the same time. "The single fourth-quarter 2013 launch, in contrast to the two-pronged launch strategy of 2012, has created some serious growth challenges for Apple in 2013," IHS asserts.
"With supply of the new Retina mini estimated to come in at one third or less of Apple's mini unit shipments in the fourth quarter of 2012, it's curious that Apple elected to include the product at the same time as the iPad Air," Alexander elaborated.
"The iPad Air is an impressive product in its own right. Faster, lighter, and substantially thinner than earlier generations, the iPad Air provides a long-awaited design refresh of the 9.7-inch iPad. Apple could have split the product launches, as they did in 2012, and introduced the mini in the first quarter of 2014."