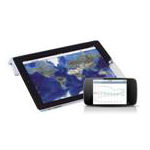 Shipments of cellphones equipped with near-field communications (NFC) will soar fourfold from 2013-2018, reaching 1.2 billion units, according to a new report from IHS Technology.
Shipments of cellphones with NFC capabilities rose to 275 million units in 2013, a 128% increase from 120 million in 2012. IHS Technology analysts forecast another 50% increase this year, with global shipments reaching 416 million units. They predict another 325% increase out to 2018.
NFC chips were incorporated into 18.2% of the 1.5 billion cellphones shipped worldwide in 2013. That will rise to 64% in 2018, according to IHS Technology.
"The majority of smartphone makers are adopting the NFC wireless communications and payment technology in their products as a de facto standard," IHS senior financial and ID market analyst Don Tait was quoted in a press release.
"Consumers are becoming increasingly aware of the benefits of mobile payment—and NFC wireless readers are proliferating in businesses throughout the world. This strong momentum will allow the NFC cellphone market to overcome barriers, including a lack of compelling services and applications, and the sluggish progress on establishing the required infrastructure."
That said, the mobile payments ecosystem is developing at a slow pace, IHS Technology analysts note. Market participants will be challenged "to develop services and applications that consumers want," they write.