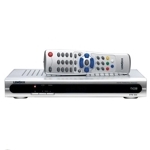 Revenue in the global market for conditional-access set-top boxes (STBs) has surged along with strong growth in pay-TV over the past ten years. That's going to change in coming years, as pay-TV market growth slows and reaches saturation, according to new market research from IHS Technology.
Conditional-access (CA) STBs, also referred to as content protection, prevent the viewing of unauthorized digital TV content. Some do this via software that's either embedded in an STB or is enabled by smart cards or conditional access modules, IHS explains in a news release.
IHS forecasts worldwide market revenue for CA-STBs to decline from a peak of $2.2 billion in 2015 to $1.9 billion in 2018. "The CA market is largely dependent on pay-TV growth," commented IHS senior analyst for Connected Home Wajahat Abbassi.
Conditional Access STB Market
"Shipments of STB CA clients have grown strongly during the past 10 years, from 44 million units in 2003 to 246 million in 2013, driven by a decade of rampant pay-TV growth. However, this dependence will make further growth for CA challenging as the pay-TV market begins to slow."
Globally, revenue in the STB content-protection market shrunk 4.5 percent in 2013, totaling $2.1 billion. The decline came despite growth in STB-CA clients, such as smart cards, which grew 6 percent to total 246 million units, IHS Technology notes.
IHS expects growth to resume this year and continue in 2015 driven by TV digitization in China and India and growth in other emerging markets. The market research company expects STB-CA shipments will reach 279 million units in 2015.
Price competition will constrain market revenue, however, as will growing use of software-based solutions. IHS forecasts global STB-CA market revenue will total $2.2 billion by 2015.
Looking at the pay-TV market, 53 percent of TV households worldwide will subscribe to pay-TV services by the end of 2015, according to IHS. That level of penetration is going to constrain revenue growth in the STB-CA market. IHS expects industry value will begin dropping after 2015.
Driven by acquisitions, Cisco is the STB-CA market leader, commanding a 32 percent share in 2013, IHS said. The Kudelski Group's Nagravision is the world's second largest provider of STB-CAs with a 27 percent market share.
Commenting on the wave of acquisitions, IHS Technology's Abassi said, "Consolidation in the CA market is not just a result of commoditization. The relationships between pay-TV operators and CA providers tend to be among the most long-lasting and persistent in the entire TV technology value chain.
"Being able to offer content protection as part of an overall solution, alongside other products such as STBs, STB software or multi-screen video components, is a strategic advantage for video technology providers. Doing so enables them to deliver high-value solutions that also benefit from the typically sticky nature of content-security relationships."