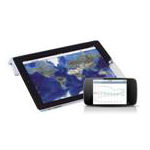 Mobile telecom providers are restructuring to take advantage of a booming market for machine-to-machine (M2M) cellular connections and services. But fully capitalizing on expected strong growth is going to require focused efforts, according to a new report from IHS.
Global M2M connections will more than triple, reaching 375 million, by year-end 2017, up from 116 million in 2012, according to IHS. Wireless carriers' cellular M2M services revenues will "explode" over the period, surging to $22.4 billion in 2016 from $9.6 billion in 2012.
The M2M market consists of connectivity, value-added service (VAS) management, and M2M application platform services (MAPs), IHS analysts explain in "MNO Strategies in the Cellular M2M Market."
Revenue from traditional cellphone-based mobile services, as well as growth prospects, are on the wane, particularly in developed markets including the U.S. and Europe, IHS analysts point out, making booming growth in M2M stand out all the more.
"Wireless service providers ranging from Verizon Wireless, to Vodafone, to China Mobile are turning to the cellular M2M market as a new, high-growth market opportunity," IHS senior principal analyst for M2M & the Internet of Things Sam Lucero was quoted in a press release.
"However, to take full advantage of the M2M market's potential, the wireless firms must deliver their customers much more than simple cellular connectivity. Instead these companies must offer a full suite of VAS and MAP services, prompting them to establish their own M2M business units and develop or acquire M2M connection platforms."
Many MNOs have established M2M business units, such as Sprint's Emerging Solutions Group and Telekom Austria's Telekom Austria Group M2M Gmbh, and "have expanded their market strategies beyond simply providing wholesale connectivity to mobile virtual network operators (MVNOs) and other aggregators," IHS notes. Doing so facilitates development of the "specialized expertise in both horizontal M2M business issues – such as connectivity management – as well as vertical-specific domain expertise."
MNOs are also deploying M2M Connection Platforms (MCPs) so as to "tailor the operators' infrastructure and systems to the needs of the M2M market." MCPs are essential to success given the substantial differences between M2M and mobile carriers' traditional cellphone business.
Traditional consumer-oriented cellphone systems and processes are designed around providing services to mobile handset service subscribers and for single-device activation processes. Devices are in the hands of subscribers if and when technical difficulties ensue. In addition, mobile handsets are based on 18-24-month replacement/upgrade cycles, "reducing the need for backward compatibility of network infrastructure with still-deployed legacy devices." These stand out in contrast to M2M market characteristics and attributes, IHS analysts point out.
Typically M2M services are deployed in bulk and remotely, at times in very large volumes. In the event of technical difficulties, this requires "expensive 'truck roll' service" calls in the field.
In addition, M2M devices have long field life cycles that range as long as 15 years or more. Their use cases are often complex and business and technology-specific. "Finally, they have a low ARPU per device, typically at less than $5 per connection per month," according to IHS's report. That compares to the more than $80 per subscriber per month typical of smartphone subscriber ARPU.
Deployment of MCPs enable M2M service providers to automate and scale their M2M service capabilities, providing "remote bulk provisioning of devices directly by the customer, as well as remote trouble-shooting, management of the connection directly by the customers and integration of MCP functionality into the customer's existing enterprise management systems via application programming interfaces (APIs)."
This, in turn, can enable MNOs to lower M2M service operating costs, as well as benefit customers "by giving them greater control over the connections to their fleet of remotely deployed devices," according to IHS's report.