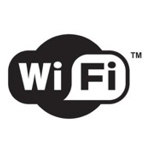 Retailers and other consumer-facing businesses are seeing the benefits of offering complimentary, so-called amenity Wi-Fi, according to a market research report from Devicescape, which calls itself the "operator of the world's largest Wi-Fi service platform."
Results of a survey of over "400 small, consumer-facing businesses across the U.S." offering complimentary Wi-Fi showed improvements in foot traffic, time on premises and customer spending, among other key metrics, according to a Devicescape news release.
Spending by Customers Using Free Wi-Fi
Nearly two-thirds of respondents (62 percent) said that since they had introduced complimentary Wi-Fi, customers spent more time on the premises. Half said that they saw increased spending by customers using free Wi-Fi. Just 0.1 percent reported a reduction.
Conducted by iGR on Devicescape's behalf, the survey spanned a variety of small, retail businesses, including bars, coffee shops, clothing boutiques, book stores and salons.

Over three-quarters (77 percent) of respondents rated complimentary Wi-Fi as either "important" or "very important" to their businesses. "Many," Devicescape points out, "described it as a competitive requirement."
The survey revealed high success rates of complimentary Wi-Fi, though goals associated with introducing it varied among businesses. According to Devicescape, the introduction of Wi-Fi was judged a success by:
79 percent of respondents who had deployed Wi-Fi as an additional service to customers
69 percent of respondents who had deployed Wi-Fi to increase foot traffic
72 percent of respondents who had deployed Wi-Fi to improve sales
Asked to rate customers' perception of the performance of the amenity Wi-Fi services they offer, 66 percent of respondents said their customers rated it as "fast" or "very fast." Nearly three-quarters (73 percent) said they "never" or "rarely" received customer complaints about speed or quality.
Commenting on the survey results, iGR founder and President Iain Gillott stated, "The survey results show how important the provisioning of customer-facing Wi-Fi has become for retail businesses. The availability of Wi-Fi is no longer an innovation limited to the large retail chains—small businesses are now offering the same services in their establishments, for both employees and customers. In the near future, small businesses will consider Wi-Fi as fundamental to their success as electricity or running water."
Added Devicescape CEO Dave Fraser, "There's a stunning misperception that amenity Wi-Fi is of poor quality. This study shows what we've known for a long time—amenity Wi-Fi is becoming the norm for small businesses and the service provided is typically fast and high-quality. It is a powerful platform for mobile connectivity and offers up tremendous benefit for both enterprises and consumers."