Indiana-based regional fiber network operator Intelligent Fiber Network (IFN) is expanding its internet connectivity in Ashburn, Virginia where it exchanges traffic with numerous other network operators. Washington DC suburb Ashburn is a major internet hub.
The initiative will feature a second connection between IFN and the nationwide INDATEL hub and other networks, with the first being in Chicago. IFN is not building new fiber routes to Ashburn. The plan is to lease capacity on existing routes to connect its assets in the network hub so that connectivity will begin and end on IFN's network.
The advantages of not switching to competitive providers, the company says, are greater resilience and lower costs. The economies are realized by eliminating middle mile providers, according to the press release.
"Expanding our connectivity to Ashburn speaks to our core value of relentlessly executing broadband connections and eliminating those constraints that impact always-on connectivity," said Darryl Smith, Vice President of Operations for IFN, originally known as Indiana Fiber Network. "As we continually tweak the evolution of our network and fortify our products, we are adding resiliency and capacity to IFN's services to enhance customer expectations."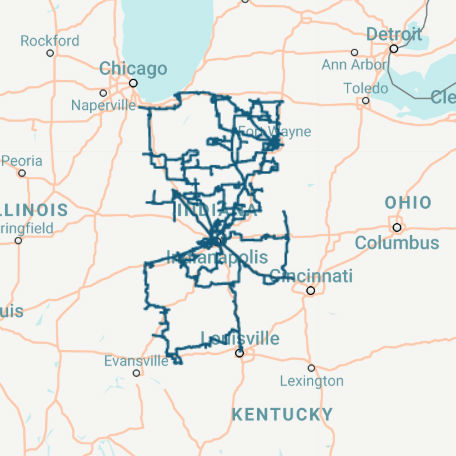 In April, IFN said it had raised almost $13 million in capital investments and said it is facilitating connectivity in Illinois and Missouri under a partnership with Wabash Valley Power. Last year, IFN said it would invest $100 million over five years in Indiana and would spend multiple millions of dollars upgrading the network in the state. The goals are improved stability and new operational and network efficiencies.
Last year, the Indiana Fiber Network announced its rebranding to Intelligent Fiber Network while making clear that it is not forgetting its home state. IFN is owned by 20 small telcos in the Hoosier State and began a significant upgrade project in April.
The initial goal was to upgrade about 15 points of presence by fortifying them in a hierarchical design, with some POPs turned into an aggregation layer. The plan is to add to the more than 4,500 route miles of fiber cable in 456 cities and towns across the state. Customers include telecommunications companies and direct customers such as hospitals, schools, financial institutions and governmental facilities.