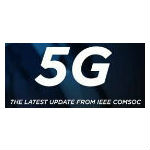 With emerging next-generation 5G wireless technology generating strong interest among communications technology professionals, the IEEE Communications Society has issued a review of preliminary 5G wireless channel models. The report also includes news of live 5G network test results, 5G's role in emerging telecom architectures, and an evaluation and plans regarding 5G's impacts.
The first interim study of 5G channel models was recently completed and published by eight partners in the METIS Task Force. An Integrated Project within the European Union Seventh Framework Program (FP7) for research and development, METIS is conducting "major large-scale global research activity on 5G." In addition to documentation, a two-day video recording is available on the Brooklyn 5G Summit website.
5G Wireless
In a live network test of pre-standard 5G technology, Ericsson reported its website achieved speeds of 5 Gbps. Ericsson employed a new concept for a radio interface in combination with advanced Multiple-In, Multiple-Out (MIMO) technology with wider bandwidths, higher frequencies and shorter transmission time intervals, IEEE CTN (ComSoc Technology News) reported. A 15-GHz frequency band was used. That's a higher frequency than currently used in 3G and 4G systems, which top out at around 2.6 GHz. The use of the higher frequency band should be better suited for deployments in densely populated urban areas, IEEE CTN explains.
With interest in employing device-to-device (D2D) solutions for public safety and proximity-based services applications, the July 2014 issue of the IEEE ComSoc Communications Magazine and June 2014 issue of of Wireless Communications Magazine include several feature articles in which IEEE ComSoc experts and industry leaders discuss D2D's potential. Included in these articles are findings from recent use cases, design approaches and performance aspects of 5G networks. "The common thread in these D2D articles is an ongoing need/interest in expanding the definition of heterogeneous cellular networks to include D2D capabilities with location, performance and capacity gains," IEEE CTN summarizes.