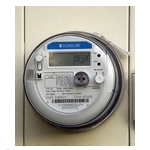 Virtually any type of utility company could generate operational savings over the next 20 years by deploying smart meters, according to a new white paper from the Institute for Electric Efficiency (IEE) titled "The Costs and Benefits of Smart Meters for Residential Customers."
The white paper, authored by researchers from The Brattle Group and the IEE, classifies utilities into one of four categories, including pioneers, committed, exploratory and cautious.
Pioneers are companies that previously invested in AMR, have high energy prices and purchase all power; while committed companies have relatively high energy prices, primarily natural gas-fired generation and a mandate to aggressively pursue renewable generation. Exploratory companies have relatively low-cost generation available, high population density and highest demand in winter months. Cautious companies have low population density and high annual demand growth. They primarily use coal, nuclear and natural gas.
Researchers also noted four different consumer types, including basic, comfort, saver and green. Basic consumers are those who do not wish to engage, while those in the comfort category have large load homes with air conditioning, pool pumps, and smart appliances. Comfort users have minimal interest in energy engagement and limited concern about their bills.
Savers, on the other hand, are primarily motivated by the opportunity to save money on their bills, while green consumers are motivated by environmental concerns and are willing to be more engaged.
The Brattle Group and the IEE created cost models for each utility type based on what they considered an appropriate customer mix. The model assumed that each "example" utility had one million customers within its service area and that it would phase in AMI over a five-year period.
The operational savings varied from a low of $77 million for the Pioneer utility that already deployed AMR to a high of $208 million for the cautious utility. The committed and exploratory utilities were expected to see savings of $153 million and $156 million, respectively.
Researchers also projected consumer savings from a low of $100 million for the cautious utility to a high of $150 million for the pioneer. Consumer savings for the committed utility were expected to be $140 million and the exploratory utility was expected to see consumer savings of $131million.
Research firm In-Stat also sees a bright future for smart meters. In a new report titled "Getting Smart on Worldwide Smart Meter Communication Technology," the company forecasts worldwide smart meter revenues to surpass $12 billion in 2016.
The research also notes that ZigBee is the early technology leader in smart metering.
"While the number of ZigBee clients in homes to date is relatively small, In-Stat believes that ZigBee will maintain its dominance," said Allen Nogee, In-Stat research director. "Although Wi-Fi is pervasive, it has not been a viable choice for the smart grid because the application layers have never existed for Wi-Fi that explain exactly how Wi-Fi devices interact. That will all change with the passage of the IP-based Smart Energy Profile 2.0, expected late in 2012."