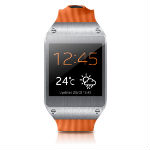 People bought many, many more wearable tech devices in 4Q and for 2015 as a whole, according to the latest market research report from IDC. Vendors shipped 27.4 million units during 4Q – up 126.9% from a year before – and 78.1 million for the full year, a 171.6% increase.
Growing popularity of fitness trackers and the Apple Watch fueled growth, IDC highlights in its latest Worldwide Quarterly Wearable Device Tracker.
The triple-digit growth rates indicate it isn't just ¨technophiles and early adopters¨ that are increasingly interested in wearable tech, IDC research manager for wearables Ramon Llamas noted.
¨[W]earables can exist and are welcome in the mass market. And since wearables have yet to fully penetrate the mass market, there is still plenty of room for growth in multiple vectors: new vendors, form factors, applications, and use cases. This will help propel the market further.¨
Wearable device manufacturers and vendors need to continually improve functionality and features in order for growth to continue, he continued. "The market can only get so far with 'me too' and 'copycat' wearable devices. End-users expect improvement from what they have now, and new applications to spur replacement and increased adoption.¨
Adding to personal historical fitness and health data, incorporating prescriptive data such as healthy living tips, along with popular applications such as social media, news, and navigation, will attract more users and boost growth, Llamas added.
Fashion and design are other aspects playing an equally important role in the popularity of wearable tech, senior research analyst for IDC Mobile Device Trackers' Jitesh Ubrani commented. "Simply encrusting your watch with gold and jewels is not going to cut it. Rather forming partnerships with notable fashion icons, a route taken by Fitbit and Apple, is far more likely to succeed.¨
The range of popular wearable tech is broadening, illustrating that smart watches and fitness bands aren't the sole factors driving growth. The Top 5 wearable devices were wrist-worn, but clothing, footwear and eye-wear with embedded tech devices may require even greater fashion sense, according to Ubrani.
Trends Underlying Wearable Device Shipments
Turning to leading vendors, Fitbit retained its market leading position throughout 2015, IDC said. A well-defined product line, fast-growing wellness program and broad market reach paid off for the the company, according to researchers. For 2016, IDC points out development of new hardware – Fitbit Blaze – and a fashion-oriented wristband (Fitness Alta), which hold true to the company's focus on fitness tracking.
Apple's wearable tech performance was mixed, benefiting from wider distribution and Apple Watch holiday promotions, but the company wound up with 4Q revenue from ¨Other Products¨ only slightly higher than the previous quarter. IDC expects improvements for the next version of the Apple Watch based on its ability to tap into Apple's online platforms, such as HealthKit, ResearchKit, WatchKit and watchOS2.
Low prices for its MiBand, as low as $11, boosted Xiaomi's wearable tech sales in China and boosted 2015's growth rate to the top of the vendor charts, IDC continues. The addition of constant heart rate monitoring to the Mi Band Pulse, which sells for $13, builds on Xiaomi's market strategy but leaves it nondescript in a crowded market.
Samsung ranked fourth ahead of Garmin in wearable device sales for the year. The Gear 2 smart watch, which includes optional cellular connectivity, sold well. Looking ahead, Samsung is experimenting with other form factors, including smart belts, a suit with NFC and connected footwear.