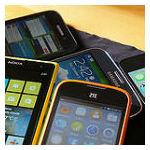 The market for used and reconditioned smartphones will grow at a 22.3 percent CAGR, rising from 81.3 million to 222.6 million units from 2015-2020, according to used mobile phone market research from IDC.
Most major U.S. carriers, many retailers and e-tailers are running some type of trade-in or take-back program, which is fueling growth, IDC highlights. "The demand for refurbished smartphones is already becoming constrained in countries such as the United States," said Mobile Phones program research manager Anthony Scarsella in a press release.
IDC pegs the total 2020 market value for used mobile devices at an estimated $30 billion. At that time the average selling price for a used device will be $136, according to IDC's estimate.
The Used Mobile Phone Market
Fast growing use of second-hand and reconditioned mobile phones constrains demand for new devices, but various agencies are promoting, even requiring, reuse and recycling in light of the human and environmental health threats from the massive and fast growing volumes of e-waste.
IDC also sees new business opportunities for mobile phone value chain participants. "Although there is a potential downside to mobile ecosystem suppliers, IDC believes that the used smartphone market also presents new opportunities to grow revenue and increase market share," said Will Stofega, IDC program director, Mobile Phones.
¨Mobile operators are the most constrained given the need for replacement devices for customers who have purchased device insurance plans,¨ said Scarsella. ¨In addition, used handsets provide an additional option for customers with sub-prime credit making them ineligible for equipment installment plans."
Americans use their mobile phones for an average 18-20 months before acquiring new models, according to Planet Green Recycle. Some 135 million cell phones were discarded in the U.S. in 2010 alone, according to the EPA.
Planet Green Recycle estimates that  7 in 10 mobile phones are suitable for reuse, yet just 14-17 percent are recycled. The reuse of just 42 cellphones would save enough energy to power the average household for an entire year, Planet Green Recycle says.
Image courtesy of flickr user Jon Fingas.