In just a short span of time, tablets have gone from a computing/communications device and consumer electronics growth leader to an als0-ran. Growth will pick up again, but not until 2018 and then top out in single-digit rates, according to the latest from the IDC Worldwide Quarterly Tablet Tracker.
Global tablet shipments will decline 12 percent year-over-year (YoY) in 2016 and total 182.3 million units, IDC forecasts. Looking farther out, detachable tablets will gradually gain traction and fuel a rebound in market growth from 2018-2020.
"The benefits of a thin and light design combined with a touchscreen are bolstering growth in the detachable tablet market, but are also bleeding over into the PC market as slim and convertible-type notebooks gain popularity," commented IDC Worldwide Quarterly Mobile Device Trackers senior analyst Jitesh Ubrani. "This is a welcome change for vendors as average selling prices for notebooks and tablets are expected to increase in the near term."
Global Tablet Shipments
In mature market regions, such as North America, tablet growth will continue at a single-digit pace until 2020 as growth in sales of detachable tablets will be sufficiently high to counter declines in slate tablet sales.
"The transition to detachables is inevitable, but slate tablets will remain relevant as highlighted by recent results from Amazon with its Kindle Fire portfolio," commented Jean Philippe Bouchard, IDC tablets research director.
"Fueled by ultra low-end prices and a growing ecosystem play involving the Internet of Things, slate tablets will still account for more than twice the volume of the detachable segment with 124 million units forecast to be shipped in 2020."
Turning to form factor, IDC forecasts global shipments of tablets with small screens (7-9 inches) will lose market share to those with medium (9-13¨) and large (13-18¨) screens. Shipments of small-screen tablets will drop from 59.9 percent in 2015 to 56.4 percent in 2016 and 38.7 percent worldwide by 2020.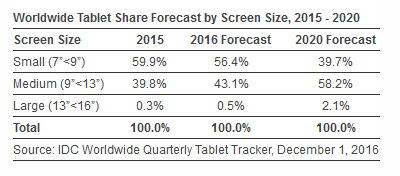 Medium-screen tablets will become the most popular device format as their market share rises from 39.8 percent in 2015 to 43.1 percent this year and 58.2 percent in 2020. Global shipments of large-screen tablets will increase from 0.3 percent of the market last year to 0.5 percent this year and 2.1 percent in 2020, IDC says.