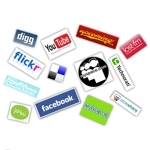 Three-quarters of business-to-business (B2B) buyers and 84 percent of C-level/vice president executives use social media to support purchase decisions, according to market research from IDC. According to the the global study, B2B buyers most actively using social media to support purchase decision-making were more senior and had 84 percent bigger budgets.
They also made 61 percent more purchase decisions and had influence over a wider range of purchase decisions than those B2B buyers who didn't use social media, according to IDC's "Social Buying: The importance of Trusted Networks During the B2B Purchase Process," which was produced in collaboration with LinkedIn.
Purchase Decisions and Social Media
IDC found that use of social media increased decision-making confidence. "In the final stage of the purchasing process, when stakes are highest online professional networks are the number 1 information resource preference of buyers," IDC highlights in a press release.
Use of social networks to support purchasing decisions will continue to grow in importance, IDC believes. "Senior executives – the C-level and VP-level buyers who demonstrate the greatest propensity to use social networks for buying – set the pace for others in their organization. Where the leaders go, others tend to follow," commented Kathleen Schaub, vice president of research in IDC's CMO Advisory Practice.
Added Michael Fauscette, group vice president, software business solutions for IDC, "As the use of social networks expands, the gap between companies that use social networks for buying and selling and those that do not will widen, creating a significant disadvantage for companies that lag behind.
"For vendor companies, this transformation may be difficult and will take time; however, new competencies will amplify the value that buyers seek from social networks. This will create an echo effect, making social networks even more valuable to buyers."