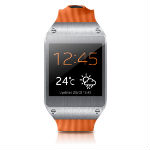 The second quarter was an important one for the wearable sector as it experienced double digit growth and made a significant transition, according to wearable and smartwatch sales date from International Data Corp.
During the quarter, 26.3 million devices shipped. That represents a 10.3 percent year-over-year increase. That increase was coupled with what may be an important sign of sector maturation. The category IDC defines as "basic wearables" – those that don't run third party apps – declined by 0.9 percent. Smartwatches grew by 60.9 percent, which enabled overall double digit growth.
This is seen as a harbinger of good things. "The transition towards more intelligent and feature-filled wearables is in full swing," said Jitesh Ubrani senior research analyst for IDC Mobile Device Trackers, in the press release. "For years, rudimentary fitness trackers have acted as a gateway to smart watches and now we're at a point where brands and consumers are graduating to a more sophisticated device.
Smartwatch Sales are King
Ubrani's assessment is that basic "rudimentary fitness trackers" acted as "gateway(s)" to more sophisticated devices, which now are ascendant. The flow from the basic to higher-level devices is reflected in the second quarter numbers. For instance, during the second quarter of 2016 GPS was embedded in 24.5 percent of wearables. That number grew to 41.7 percent during the second quarter of this year.
The industry transition almost certainly was a factor in shipment numbers and percentages changes. The top five companies in terms of shipments during the second quarter of this year were, in order, Xiaomi, Apple, Fitbit, Garmin and Fossil (with Apple and Fitbit tied). The order of the top five during the year-ago quarter was Fitbit, Xiaomi, Apple, Garmin and Fossil. Thus, Fitbit fell precipitously from first to third, which pushed both Xiaomi and Apple up one spot.
From the market share percentage perspective, Fitbit fell from 24.1 percent to 12.9 percent, a drop of 40.9 percent. Apple was a reverse image: It had 9.6 percent of the market during the second quarter of 2016 and 13 percent for the same quarter this year. Fossil, moving from 1.4 percent to 4 percent, became a stronger fifth player.
ABI Research reported earlier this month that enterprises will be a strong contributor to the growth of wearables. The firm found that revenue from wearables such as smart watches, smart glasses and scanners will grow from $10.6 billion this year to more than $60 billion in 2022. That's a compound annual growth rate (CAGR) of more than 41 percent.