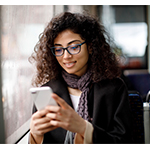 The worldwide smartphone market is not immune to the COVID-19 pandemic, with a projected year-over-year shipment decline of 11.9%  to 1.2 billion units in 2020, according to IDC.
The firm said that the sector experienced the largest year-over-year decline ever in the first quarter and shipments are expected to decline 18.2% during the first half of the year.
The firm found that the challenge unfolded in stages. "What started as a supply-side crisis has evolved into a global demand-side problem," Sangeetika Srivastava, senior research analyst with IDC's Worldwide Mobile Device Trackers said in a press release about the pandemic smartphone shipments. "Nationwide lockdowns and rising unemployment have reduced consumer confidence and reprioritized spending towards essential goods, directly impacting the uptake of smartphones in the short term. On the brighter side, 5G is expected to be a catalyst throughout the forecast period, which will play a vital role in worldwide smartphone market recovery in 2021."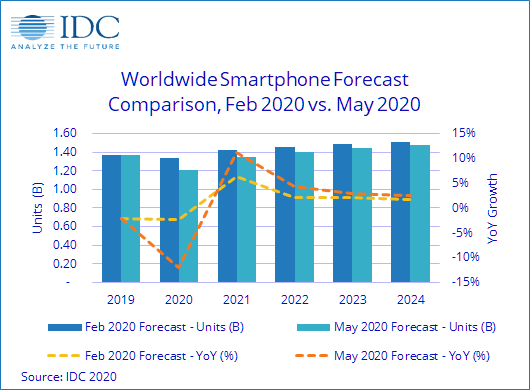 Chinese economy will continue to be impacted but show improvement as restrictions ease, factories resume operations and markets open to some extent. That will lead to single digit growth for the balance of the year. Europe, however, will see a double digit decline. The top vendors will maintain their market shares using strategies such as higher flagship launches and stringing ecommerce footprints.
IDC says that there will be a return to growth during the first quarter of next year.
The pandemic hit the smartphone segment during what already was a challenging time. A year ago, IDC said that the segment had dropped 6.6% year over year during the first quarter. That drop was a continuation of a six-quarter trend. The category in a sense was a victim of its own success. So many exciting features had driven short replacement cycles. Once the changes to phones became more incremental, however, people had less of a reason to trade up.