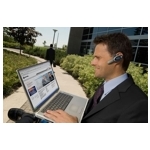 Surging smartphone and tablet adoption will create ripple effects that will encompass printing, scanning, document management, and print volumes in "surprising ways over the next five years," according to the results of an International Data Corp. (IDC) survey of smartphone and tablet users.
Growing travel demands, access to color printing, and corporate requirements to print certain documents will drive users to make increasing use of mobile printing over the course of the forecast period, according to IDC.
IDC found that the 800 unique smartphone and tablet users who responded to the survey were "more likely than non-users to print 16 of 20 business applications from their PCs," according to IDC's press release. IDC also noted that respondents tended to be younger, more likely male, had relatively high incomes and had "increasingly hectic travel schedules."
The percentage of smartphone and tablet users who printed from mobile devices surged higher in 2012 while the percentage of those who don't print and don't want to will drop from nearly 50% in 2012 to just 25% in 2015, according to IDC's forecast.
A "large percentage of smartphone and tablet users do not know how to print from their devices, and a large share say their company has not yet enabled mobile printing," IDC found. That points out the need for business management and peripheral device providers to not only enable mobile printing, but to educate users how to take advantage of it.
Other findings in IDC's, "Mobile Device Users vs. Non-Users: Print, Scan, Document Management" report include:
A higher percentage of tablet users than smartphone users can't print but want to
Smartphone and tablet users at large and medium companies print more applications more frequently than their small company counterparts
Business-use smartphone/tablet users are more likely than their personal-use counterparts to print, and to have an interest in printing
Most consumer applications are cited as having flat print volume, but photo and coupon printing are increasing, while newspapers/magazines, explanation of benefits, event tickets, games, airline boarding passes, and flight itineraries are decreasing
Three mobile print services dominate at small companies whereas at large companies, a greater variety of mobile print services are cited more often
A smartphone or tablet camera for document capture, and cloud file services (e.g., Dropbox) are used by more smartphone and tablet users than mobile scanners, and mobile printing services
Smartphone and tablet users are more likely than non-users to scan most applications examined
Smartphone and tablet users, as opposed to non-users, will more positively impact print volume over the course of the five-year period, IDC continues. "While total U.S. mobile pages are expected to grow at a compound annual rate of 12% during the 2012-16 forecast period, non-mobile pages will decline 5%," Angèle Boyd, IDC group VP and general manager, Imaging/Output Document Solutions, commented. "Laser MFPs and inkjets are forecast to benefit the most from mobile printing."