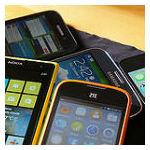 The days of double digit growth for annual smartphone shipments may be a thing of the past. However, the category is showing its resiliency by staying in positive territory, according to new research from the International Data Corp (IDC).
In its Worldwide Quarter Mobile Phone Tracker, IDC says that smartphones will experience positive growth from last year through 2021 . During that time, annual shipments will grow from 1.47 billion in 2016 to a bit more than 1.7 billion in 2021. The five-year compound annual growth rate (CAGR), driven by new user demand and a two-year replacement cycle, will be 3.3 percent.
The slow growth is quite a change for the industry, which didn't experience a single-digit growth year until 2016, when shipments grew only 2.5 percent.
"The big inflection point that everyone is watching for is when the smartphone market experiences its first year-over-year decline," said Ryan Reith, program vice president with IDC's Worldwide Quarterly Mobile Device Trackers, in a press release. "We believe the two main catalysts for continued growth are bringing first-time users onto a smartphone and maintaining life cycles that are close to two years. At the end of 2016, we estimated that about half of the world's population was using a smartphone, which leaves plenty of room for additional first-time users."
Android vs. iOS
Android will experience 2.3 percent year-over-year growth this year. During the period of the study, the Asia-Pacific region, excluding Japan, will be responsible for 55 percent of Android-based device shipments. High end brands from OPPO, Vivo, Huawei and others in the region will enable devices using the software to increase their average selling price (ASP) by 17 percent. ASPs also will be up in Latin American, the United States and western Europe. The devices also are growing: In an effort to push back against larger iPhones and similar devices, phablet devices with screen sizes greater than 5.5 inches will grow 34.5 percent this year as opposed to 2016. This, IDC says, will increase ASPs by 9.2 percent.
On the iOS front, IDC says that "nominal" 1.5 percent year-over-year growth will be achieved this year. That's good news, considering that there was a 7 percent decline in shipments last year. A major upgrade cycle may hit with the introduction late this year of the iPhone 8, which will arrive late this year. IDC predicts that most of the iPhone 8 growth will occur early next year. That, couple with new 7S and 7S+ devices will help iOS achieve 9.1 percent growth next year.
"The high-end spectrum of the smartphone market shows no signs of slowing down as we expect the average selling price of a smartphone to increase over 7% in 2017," said Anthony Scarsella, research manager with IDC's Worldwide Quarterly Mobile Phone Tracker. "Premium phablet offerings from a variety of vendors look to be the main driving force behind the growth of devices with screens 5.5 inches and larger, which are set to grow over 34% in 2017 across all operating systems."
Image courtesy of flickr user Jon Fingas.