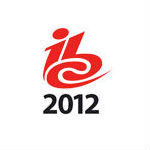 This is the first of two posts about the International Broadcasting Convention (IBC) in Amsterdam, which takes place in early-to-mid September each year.  Even if you are based in the United States,  IBC is well worth attending, or at least monitoring while underway.  In many ways, it's the rest-of-the-world's counterpart to the National Association of Broadcasters (NAB) conference each April in Las Vegas.  In fact, if you have a global focus and were budgeted to attend just one show each year, IBC is well worth considering. Both IBC and NAB have a similar mix of products for broadcasters and service providers, and both have their requisite presentations and conference sessions.  Not to mention that Amsterdam is a beautiful historic city  and a World Heritage site.
Multscreen TV
As an analyst, I'm just as interested in the macro-level trends as I am the individual vendors and products.  So let's look at a couple of those trends.
If OTT and 3D television were the big news a couple of years ago, then this year it was multi-screen TV.   It seemed as if every vendor at the show was showing something multi-screen related.  Encoder suppliers are battling to offer the fastest way to output the greatest number of video formats for managed and online distribution.  This means everything from standard- and high-definition TV, to tablets, smartphones, PCs, and so on.  Not just for live distribution but also for online streaming and to download for rental or purchase.  Then there's the security dimension: video must be packaged for adaptive bit-rate streaming in multiple formats: Apple, Microsoft or Adobe.  Not to mention native MPEG-4 H.264.
The multiscreen video format discussion quickly leads to the discussion of standardization, and two standards are in the process of finalization, with a longer-term roadmap.  MPEG Dynamic Adaptive Streaming over HTTP (MPEG-DASH) has a common file format, while UltraViolet has both a common file format and a common encryption/DRM reference model.  Both of those are being harmonized into a future version of the MPEG-4 specification.  The recently-formed DASH Industry Forum, an MPEG-DASH advocacy group had an introductory event on Sunday evening.  Participants include Ericsson, Elemental Technologies, Adobe, Verimatrix, Dolby and Microsoft.  Real Networks – a company that has been utterly absent from IPTV for the past decade – is also a supporter.
Ultra HD
Not only are video formats evolving, but so is resolution.  This is one of the first times that conference-goers could see live demonstrations of Ultra HD – otherwise known as 4K, for being twice the resolution of 1080p HDTV.  Others refer to this as "H.265" although that is only a proposal at this time.  Solution providers across the TV distribution ecosystem have begun trumpeting support for Ultra HD in a big way; saying that the turning point event will be the 2016 Summer Olympics in Rio de Janeiro (have you ever paused to realize that it will be mid-winter in Rio in August of 2016?).   You immediately recall HD, which, ten years ago, was a mish-mosh of confusion, where consumers had to figure out whether or not to buy a separate receiver, and often didn't understand that they were watching standard-definition programming and just thinking it was HD.   The much ballyhooed turning-point event for HDTV was the 2006 FIFA World Cup, and now, finally, after 15 years, the average consumer can easily afford a set.  But will consumers come out in droves to buy Ultra HD sets in 2016?  I'm quite skeptical.
Video gateways
Another part of the multiscreen phenomenon is the new – and likely to be temporary – product category called the video gateway.  In a very real sense, video gateways are the next stage in the evolution of the whole-home DVR, but add multi-screen delivery, online features and in-home personal media to the mix.  Gateways can receive, process, store and securely distribute as many as eight pay TV streams throughout the home simultaneously, thereby keeping pay TV relevant as the living room TV experience moves to multiple screens.
Cable, satellite and digital terrestrial TV operators are finding a love-hate relationship with video gateways.  On one hand, they are a centralized point of in-home aggregation controlled by the pay TV operator.  They keep the operator's nose in the tent, so to speak.  Also, they help operators postpone expensive network upgrades because they take legacy video inputs, such as MPEG-2 over QAM access and convert it on-the-fly to H.264 video that's distributed to tablets and other connected consumer devices within the home.  On the other hand, gateways are hugely expensive.  One operator said it this way: "We need this badly for our business model, but we also hope that the cloud will ensure this is the last CPE we'll ever have to buy."
The most high-profile gateway launch was pay TV operator Liberty Media's much-anticipated Horizon solution, which has been expected for nearly a year now.  The Horizon integrates multiscreen TV, personalized recommendations, ability to record up to four channels simultaneously, and enables consumers to view personal images, videos and music content from networked devices elsewhere in the home, on the TV.  The Horizon is a custom-integrated solution that runs on Samsung set-top hardware.  The user interface was adapted from NDS' Snowflake UI by NDS, using NDS middleware.
Several software suppliers, including Alticast, Nagra and WyPlay – among others –introduced new video gateway products for pay TV operators; joining about a dozen other software and set-top suppliers that introduced their own products over the course of the past year.
Olympics Impact
The TV and app coverage provided for the recently-concluded 2012 Olympic Summer Games in London was understandably a topic of widespread discussion during IBC.  Many people thought that it set a new benchmark for TV apps, for interactivity, for advertising models, and for online TV distribution.  I wrote about NBC Universal's Live Extra app in a previous article.
What was missing from IBC?  Ironically, it was 3D.  Just three years ago, IBC attendees queued up anxiously for an exclusive 20 minute preview excerpt of James Cameron's movie Avatar.  It was the hottest thing at IBC.   This year, there was not a single 3D screen in any of the exhibit halls that I could see.  Another absentee was DVB-H, which is (was?) the European TV standard for mobile video broadcast.  As it has turned out, mobile video is being done over the Internet using IP, and not via broadcast, so DVB-H has become irrelevant.
IBC 2012 was also the coming-out party for the results of two big mergers: Cisco, which has just ingested NDS; and Viaccess-Orca, the now-combined video security and middleware supplier.  I'll write more about them in my next post.