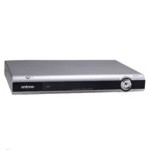 The availability of direct-to-consumer retail options for OTT video set-top-boxes (STBs) is in full swing. Options from Roku, Apple, Boxee, Sezmi, Google, and even game consoles like Xbox 360 are all enticing consumers to either cut the cable cord or augment their subscription TV service with Internet video delivered options. These retail options will soon have more company as service providers themselves see a growing variety of options for hybrid OTT video STBs to offer their customers as well.
With the  TelcoTV Conference right around the corner, the public relations machine is busy cranking out announcements about new set-top-box options that allow service providers to offer hybrid OTT options, which hope to take advantage of the growing trend of Internet video. Announcements from Amino, Skitter, and Entone, among others, tout the ability of service providers to combine both linear subscription video with OTT VOD type content and other digital media services.
Entone today announced their FusionTV product, which Entone CEO Steve McKay tells me, should help service providers "embrace OTT video, not try to defend against it." In principal, Fusion TV combines linear TV channels (both SD and HD) delivered by traditional programming sources such as cable TV, IPTV, or over-the-air (OTA) broadcasts with online media services such as video on demand (VOD), music streaming, photo sharing, social media, and other popular web content and services.
Entone hopes to initially attract two types of service providers: existing IPTV service providers who lack VOD assets and telcos who have not yet pulled the trigger on a facilities based video offer. "We believe FusionTV offers these service providers a video option now, with a path to full blown IPTV later," McKay tells me. Entone intends to pursue the cable MSO market as well, but after their initial telco push.
Entone claims the new FusionTV platform is ported to Minerva, NSN, and Mediaroom middleware platforms (as well as a few others), allowing integration of the OTT video options into existing IPTV offers. McKay also told me Entone is working on some revenue sharing arrangements between OTT VOD players like Vudu and IPTV operators, although the details are a little loose right now.
FusionTV is in trials with six unnamed service providers, including at least one "tier one" provider and several tier two and three providers.