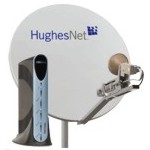 Hughes Network Systems has quietly revealed pricing and other details about its new broadband satellite service. DSL Reports called our attention to the pricing, which appeared recently on a website dedicated to the new service.
HughesNet has gone for a three-tier approach to the new services, dubbed Gen4.
The lowest-tier service starts at $59.95, with a special introductory price of $49.95, for a data rate of 10 Mbps downstream and 1 Mbps upstream with a 20 GB monthly usage cap. Importantly, only 10 GB of that usage can occur during peak times, which include everything after 8:00 a.m. or before 2:00 a.m. The other 10 GB can only be used at non-peak times (between 2:00 a.m. and 8:00 a.m.) HughesNet encourages customers to use its download management tool to scheduled large downloads to occur during non-peak times.
The highest-tier service offers 15 Mbps downstream and 2 Mbps upstream for $100 a month with a 40 GB cap and the mid-tier service provides 10 Mbps downstream/ 2 Mbps upstream for $80 with a 30 GB cap. Both of those services also allow customers to use only half of their data allotment during peak times.
Customers requiring additional capacity have the option of purchasing tokens at the rate of five dollars for 500MB; eight dollars for 1GB; or $16 for 2GB.
There is also an upfront equipment fee of $99 followed by an additional $9.99 a month for all services. Apparently the company also plans to offer a purchase option in the future, but details about that option have not yet been released.
The new services were made possible by a new satellite that Hughes launched earlier this year and are available only to customers who can be served from that satellite.
Satellites are famous for their latency. But in an FAQ, HughesNet claims the offering is suitable for use with VoIP offerings such as Skype and Vonage. HughesNet also hinted that it might offer a VoIP service of its own beginning next year, asking customers to "stay tuned in 2013 for news about VoIP!"
HughesNet has talked about potential enhancements that could be made to satellite service to make it more suitable for VoIP so perhaps we will see those enhancements in action.
HughesNet's primary competitor is ViaSat, which also has launched a new satellite and has been offering higher-speed services since January under the Exede brand. ViaSat's pricing approach is to give everyone the same data rate – which it classifies as "up to 12 Mbps downstream and up to 3 Mbps upstream" – with three different service tiers based on different data usage caps.
Customers pay $49.99 a month for a 7.5 GB cap, $79.99 for a 15 GB cap, and $129.99 for a 25 GB cap.
The upshot is that HughesNet appears to have the edge at the top tier, offering higher download speed and a higher cap at a lower price – although those wanting the highest upload speed or who need an extra 5 GB that they can use any time may be better off with ViaSat. At the lower and middle tiers, ViaSat has the edge on speed but lower-tier customers wanting a higher usage cap would appear to be better off with Hughes.
Update
Exede has informed us that its Late Night Free Zone also enables customers to maximize the amount of data they can consume. The offering, included with all of the company's rate plans, allows customers to use the Internet between midnight and 5 a.m. without the usage counting towards their monthly data allowance, suggesting that heavy users may be best off with this plan if they have flexibility about when they can use the Internet. More details can be found at www.exede.com/exede-customers/late-night-free-zone