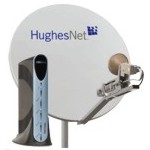 Hughes Network Systems announced today what it bills as "the first and only U.S. satellite Internet service to offer Federal Communications Commission (FCC) defined broadband speeds – 25 Mbps download and 3 Mbps uploads – from coast to coast."
Scheduled to go live on March 16, HughesNet Gen 5 will deliver 25 Mbps satellite broadband service to consumers and businesses across the entire continental U.S. and parts of Alaska, the company says in a press release.
Gen 5 will run off of Hughes' JUPITER System satellite networking platform. JUPITER, in turn, will rely on EchoStar XIX, a satellite asset of Hughes' parent EchoStar, as well as EchoStar XVII, which is currently in orbit and operational. Hughes claims that EchoStar XIX will be the highest capacity broadband satellite available upon successful launch and initiation.
Available via a nationwide network of authorized dealers and sales agents as well as directly, HughesNet Gen 5 broadband service plans come with 10-250 GB per month of data. Other features include:
Built-in CPE Wi-Fi to connect wireless devices
No hard data limits – if monthly plan data is exceeded, service continues at a reduced speed until the next billing cycle
Video Data Saver to watch more videos using less data
Bonus Zone – 50 GB of free data per month to use during off-peak hours (2 a.m.-8 a.m.)
"As the industry leader, Hughes continues to invest in technological innovations to deliver an ever enhanced Internet experience for our rapidly growing customer base," said Hughes' president Pradman Kaul in a press release.
Satellite Broadband Competition Heats Up
HughesNet competitor ViaSat offers a comparable service now, with speeds of up to 25 Mbps satellite broadband. In February 2016, ViaSat said it expects to offer satellite broadband services as fast as 100 Mbps, once ViaSat 3, its new generation satellite broadband platform, is up and running in 2019.
ViaSat expects its three-satellite ViaSat 3 constellation to not only provide residential broadband service at speeds of 100 Mbps, but also support 4K ultra-high definition (UHD) video streaming.
Satellite industry start-up OneWeb has ambitious satellite broadband plans of their own, including launching a satellite constellation of 720 LEO birds, which they hope provides global broadband coverage. OneWeb is backed by Softbank and Echostar Hughes is an investor as well. They don't expect service to begin until 2022.