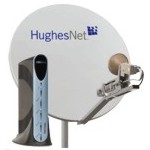 Hughes Network Systems yesterday announced several significant "enhancements" to its HughesNet satellite Internet service, aiming to deliver faster satellite broadband speeds and a "richer Internet experience to customers."
The HughesNet network upgrades Hughes began last summer and is scheduled to complete this week will boost Web browsing and download performance while an increase in daily download allowance for all service plans will allow subscribers to additional monthly download capacity of over 1 gigabyte (GB).
Hughes has also added subscriber tools that enable users to better take advantage of the improvements and "maximize their online experience," according to a press release.
The HughesNet Status Meter application continuously monitors and displays subscribers' usage so it'll be easy to know just how much download capacity they have remaining at any time. The HughesNet Download Manager enables them to schedule large downloads during off-peak hours without impinging on their download speeds or their daily download alliance.
The upgrades announced yesterday are the first in a series of performance, feature and technology enhancements Hughes will be rolling out in coming months, culminating with the launch of Jupiter, its "next-generation, high throughput Ka-band satellite."
"Customers' best choice in satellite Internet is getting even better,"  "Hughes will be continuously improving the HughesNet service over the coming months with optimization technologies, and further enhancements to service plans and customer support.
"Our vision is to take satellite Internet to the next level with the most advanced high-bandwidth satellites and services that will enable subscribers to experience the Internet at its fullest," touted Mike Cook, senior vice president of the North American Division at Hughes.
Hughes has also launched new online customer service and support applications, online channels that enable subscribers to access the latest information about service improvements and promotional offers, and post comments and questions.
This includes the HughesNet Community subscriber social network, where company experts and designated "power users" will be online to respond to questions. Customers can now also post questions, share and exchange information and keep up with HughesNet service news on the company's Facebook page.