Video is now equivalent to 'basic service' according to Huawei, who outlined a growing vision for the video opportunity at their recent Global Industry Analyst Summit last week in Shenzhen, China. Huawei sees a carrier global video market opportunity of over $1 trillion (USD).
That opportunity includes traditional entertainment video services as the biggest opportunity, but also includes enterprise video and communications based video services playing a significant role as well. By Huawei's account, video is equivalent to dial tone in the broadband age.
Customers, consumer and business alike, are increasingly using video as a primary means of communication through social media, video chat apps, and unified communications. Video traffic already dominates most broadband networks and it's not slowing down. Add the growing use of mobile video as a means of consuming video entertainment, and you can now equate video as broadband's 'basic service,' according to Huawei.
As a result, the global communications conglomerate is making a big push into enabling service providers to seize this opportunity. At their headquarters in Shenzhen, Huawei was displaying a forthcoming middleware solution for IP delivered video. They are also advocating carriers continue a push into "cloudifying" their networks as a means for better video distribution methods.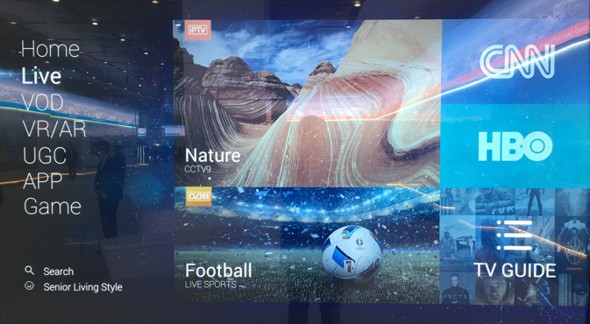 Huawei sees the market for entertainment based video at $650 billion, and enterprise/industry video opportunities at over $350 billion. Enterprise and industry video opportunities include the growing amount of video surveillance which is now commonplace across the globe, as well as education and healthcare vertical video applications.
These video opportunities are not fixed network opportunities alone. In fact, Huawei sees much of this opportunity flowing to mobile network operators, especially as 5G comes online. Customers are increasingly watching video on mobile devices and that means mobile operators can extract more revenue from video services. Video is a big part of the IoT as well, with IP video cameras becoming ubiquitous in cityscapes, enterprises, and even in the home.
Business models include more monthly revenue for mobile carriers due to more monthly bandwidth consumption, interconnection agreements with content and media companies, CDN type services, and video IoT applications, according to Huawei.
Image courtesy of flickr user Kirill Kniazev.