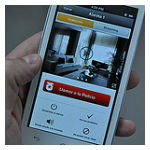 Network operators are going to need a lot more bandwidth, and make more efficient use of it, if next-generation networking visions of smart homes, businesses, communities, and cities are to be realized. Eager to do their part, broadband access vendors are racing to introduce next-gen gigabit fiber and wireless broadband equipment and other digital communications infrastructure products that enable a digital lifestyle.
The latest example is Huawei, who introduced and demonstrated Huawei GigaHome, an "end to end" solution for next-gen home networking at the international FTTH Conference in Marseille, France.
According to the company, GigaHome provides device-to-cloud synergy and high-performance smart home gateways that telecom carriers and other network operators can use to build and operate the second generation of smart home networks and service delivery platforms.
Huawei focuses on home gateways and flexible, multiple-media Wi-Fi extension with GigaHome in a bid to overcome a range of technological smart home networking challenges. That includes variability of and lack of transparency as to individual in-home and in-building network architectures, configurations and services provision.
Huawei GigaHome
As Huawei explains, GigaHome's "1+n" home network architecture synchronizes wired and wireless network parameters and seamless roaming/terminal switching to achieve Wi-Fi speeds as high as 300 Mbps. Boosting that further, use of dual-core processors, Wi-Fi hardware forwarding, dual-band IEEE 802.11ac and 4×4 MIMO, provides gigabit Wi-Fi connectivity through any media, the company said in a press release.
GigaHome has also been optimized to deliver high-bandwidth video services, including assigning high priority to high-value services to ensure delivery of premium user experiences, Huawei says in a press release.
In addition, GigaHome APIs will be available so as to provide fast and flexible Wi-Fi network management, operations and maintenance, the company said.
"Huawei's home network solution provides a full Wi-Fi coverage, and a good performance home network infrastructure, operable and manageable cloud-based management platform and open ecological system to enhance the home network experience, operational efficiency and bring new value-added services to operators," said Jeff Wang, President of Huawei's Access Network.