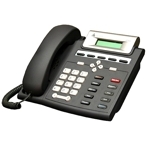 Broadband service providers continue to look to hosted unified communications as a promising value add product — one they hope will generate significant revenue going forward. With that in mind, ADTRAN, BroadSoft and Polycom are joining forces to offer service providers and enterprise customers prepackaged hosted telecommunications services for small, medium and large installations.
The hosted service plans include all the necessary hardware and phones and also offer installation and maintenance services aimed at providing "zero-touch deployment and provisioning back to the BroadSoft switch," according to a news release.
"These solution kits completely simplify hosted deployments," according to Chris Thompson, senior product manager for the ADTRAN Enterprise Networks Division. This hosted approach is trying to create an 'easy button' for service providers regarding a UC platform. Mixing and matching vendors for any platform has been known to offer challenges before, especially when something goes wrong. This approach will be interesting to watch.