The top five home security camera brands worldwide are, in order, Ring, Arlo, Wyze, Google's Nest, and Alarm.com, according to a home security camera market share report from Strategy Analytics.
The five companies shipped more than 14 million cameras, which is about 20% of the 72 million cameras that the firm says shipped to consumers last year. The report says that smart home camera sales "roared back" last year behind inexpensive, entry level cameras from APAC brands and the easing of COVID-19 installation restrictions in the U.S.
Almost all brands enjoyed year-to-year unit shipment gains. At the same time, market share for nearly all brands declined due to the entry of dozens of new brands. This phenomenon was particularly keenly felt in the Asia Pacific region.
The report looks at indoor and indoor/outdoor cameras sold at retail but doesn't include video doorbells and professional surveillance systems. The remainder of the top ten is composed of ADT and what Strategy Analytics defines as retail-heavy tier 2 companies D-Link, Eufy, EZVIZ and Xiaomi. The report also discusses tier 3 brands that use a variety of go-to-market strategies such as consumer electronics retailers (Kasa and Blink) and interactive security channels (Resideo, SimpliSafe and Vivint).
"The Midrange price segment, which includes cameras priced between $50 and $100, is emerging as the main competitive arena," said Bill Ablondi, the Director of Strategy Analytics' Smart Home Strategies advisory service, in a press release about the home security camera market share report. "This price band will provide most brands with a balance of profits and revenue that makes competing in this segment a sustainable effort. Interactive security providers such as ADT, Alarm.com, and Vivint will eventually control most of the Premium price band as they develop sales and marketing campaigns to increase the number of cameras included sold to new subscribers and entice add-on camera purchases from their existing subscribers."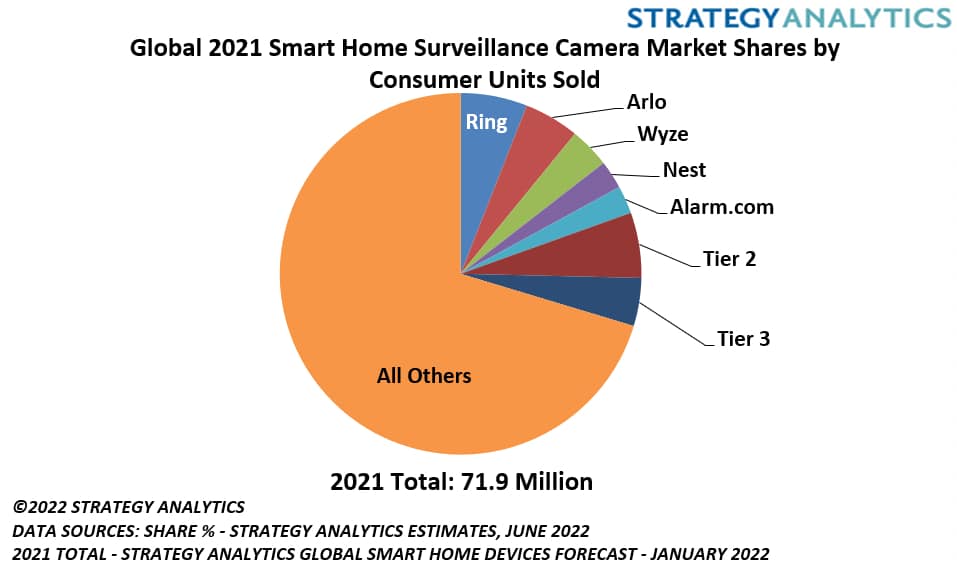 Analyst Jack Narcotta, the Principal Industry Analyst in the firm's Smart Home Strategies advisory service, said that Ring's strength in video doorbells has continued to have a "huge halo effect" on its indoor and indoor/outdoor cameras.
In 2018, Strategy Analytics said that the smart home surveillance camera market would pass the $9.7 billion mark by 2023. It said that the key driver would be cameras with full software and service features that cost less than $200. It said that the dominant service providers would be ADT, Alarm.com and Vivant and that key vendors would be Amazon, Netgear and Nest