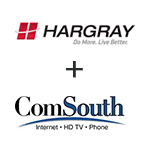 South Carolina-based regional carrier Hargray Communications continues its growth through acquisition strategy, with the news of its intent to acquire Georgia-based ComSouth. Central Georgia-based ComSouth provides broadband, voice, and video services in several communities, including Hawkinsville, Perry, Fort Valley, Cochran, among others.
Originally the ILEC in the Hilton Head region of South Carolina, Hargray Communications has grown significantly in the past decade through several acquisitions including Plantation Cablevision and Charter's Beaufort, South Carolina cable system. Hargray has also invested heavily in fiber connectivity and now operates a 4K route mile fiber network throughout the region.
Hargray Communications itself was sold last year to a private investment group led by the Tom Pritzker Family Business Interests. At the time the Hargray sale transaction was announced in March 2017, Hargray served approximately 65K residential and business customers and had 400 employees.
ComSouth currently serves 3,339 access lines and provides FTTP to parts of its service territory. ComSouth is currently owned by the Mansfield Partnership, a Georgia limited partnership, according to an FCC notice.
Terms of the transaction were not disclosed. The deal is expected to close in the second quarter of 2018 and will require customary regulatory approvals.