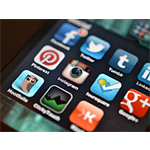 Young people use mobile devices a lot, so much so that half of teens in a new teen mobile use survey said they suffer from mobile device addiction. Six in 10 parents (59%) agree, according to the new market research from Common Sense Media.
Furthermore, the effects of mobile device usage are an issue, and source of controversy, among parents and their children – whether at the dining table or while driving, according to ¨Mobile Addiction: Concern, Controversy and Finding Balance.¨ More than 1/3 of the 1,240 parents and kids (620 parents, 620 children) Common Sense Media surveyed said they argued about mobile phone usage daily.
Common Sense Media's white paper also includes a review of the scientific literature on the subject of problematic teen mobile use, including its impacts on childhood development and well-being, the San Francisco-based non-profit highlights in a news release.
Teen Mobile Device Addiction
"Mobile devices are fundamentally changing how families go about day-to-day lives, be it doing homework, driving, or having dinner together," said James Steyer, founder and CEO of Common Sense. "What we've discovered is that kids and parents feel addicted to their mobile devices, that it is causing daily conflict in homes, and that families are concerned about the consequences.
¨We also know that problematic media use can negatively affect children's development and that multitasking can harm learning and performance. As a society we all have a responsibility to take media use and addiction seriously and make sure parents have the information to help them make smart choices for their families."
Key report findings include:
Addiction: One out of every two teens feels addicted to his or her device, and the majority of parents (59 percent) feel that their kids are addicted.
Frequency: Seventy-two percent of teens and 48 percent of parents feel the need to immediately respond to texts, social-networking messages, and other notifications; sixty-nine percent of parents and 78 percent of teens check their devices at least hourly.
Distraction: Seventy-seven percent of parents feel their children get distracted by their devices and don't pay attention when they're together at least a few times per week.
Conflict: One-third of parents and teens (36 percent and 32 percent, respectively) say they argue with each other on a daily basis about device use.
Risky behavior: Fifty-six percent of parents admit they check their mobile devices while driving; fifty-one percent of teens see their parents checking/using their mobile devices when driving.
Excessive Internet use and mobile device addiction can have ¨very damaging consequences¨ in extreme cases, according to the study. Toggling between multiple screens and online activities – so-called multitasking – impairs the ability to lay down memories, to learn and to work effectively, the researchers found.
Excessive use of online media can also impair the ability to interact in-person, such as during face-to-face conversations. It also hinders development of empathy, all of which leads the researchers to advise parents and children to avoid device multitasking while talking with others and avoid replacing direct human interaction with that intermediated by technology.
"Parents are right to be concerned about the impact of media on the development of their kids," commented Ellen Wartella, a leading scholar on the role of media in childrens' development. "It is a good thing that parents and educators are focused on kids' social and emotional learning and asking the right questions — many of which we don't know the answers to yet.
¨From attention disorders and multitasking to basic social interaction and interpersonal skills, we need to devote more time and research to understanding the impact of media use on our kids and then adjust our behavior accordingly."