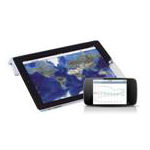 North America's mobile market "is one of the most advanced and successful in the world," according to the latest report in GSMA's Mobile Economy report series. Retail rates for advanced mobile services, 4G LTE network connectivity, are lower than those in comparable markets around the world, according to GSMA's "Mobile Economy North America 2014" report.
North American mobile service providers are benefiting as well. They have been able to increase revenues at a time when those in Europe and other developed markets has been waning.
Mobile Industry GDP Impact
Moreover, deployment of 4G networks across North America is making a significant contribution to local and regional economic growth, according to GSMA. Directly and indirectly, the North American mobile industry represented around 3 percent of regional gross domestic product (GDP), some $550 billion. That's expected to rise to around $620 billion by 2020.
The 4G mobile broadband build-out has also generated jobs and funding for public services, GSMA notes. North America's "mobile ecosystem" supported some 1.1 million direct jobs and an additional 380,000 jobs supported indirectly. Companies in the mobile ecosystem have also made over $63 billion in direct contributions to public funding in 2013. That's excluding regulatory and spectrum fees.
A "generally supportive regulatory backdrop" has been the key to rapid 4G mobile broadband in the U.S. and Canada, the industry association continues.
"Regulators have also looked more favorably on market consolidation between operators than has been the case in other developed markets," GSMA states. "For example, between 2003 and 2012, the US Federal Communications Commission (FCC) approved 20 significant mergers and other mobile license transactions, with a total value of US$288 billion.
With the first commercial 4G-LTE network deployed in 3Q 2010, there were 85 million 4G mobile connections in the U.S. by year-end 2013 – the most of any region in the world. There were 2.7 million in Canada, the ninth-highest total, GSMA highlights.
As of the end of last year there were 341 million total mobile connections (SIM cards) across North America. That excludes M2M (machine-to-machine) connections, GSMA notes. With many in the region owning multiple mobile devices, the total number of unique mobile subscribers was much lower – 250 million.
Overall, 4G accounted for 1 in 4 mobile connections in North America in 2013. That's the highest proportion of any world region, GSMA says. 4G network access is nearly complete in North America: nearly 97 percent of the region's population by the end of 2013, also one of the highest proportions worldwide. It has taken just 2.5 years for 4G network build-out to surpass 95 percent coverage. It took four years for 3G network coverage to reach that level, GSMA points out.
North America's mobile subscribers also use significantly higher volumes of mobile services as compared to their counterparts in other developed markets, GSMA found. Per connection, time spent on voice calls is five times higher than that in Europe, and over twice as many SMS text messages are sent. Over one-quarter of global mobile data volumes are crossing mobile networks in North America, according to Cisco data, while the region accounts for just over 5 percent of total mobile connections.
"The North American mobile industry is established as a major contributor to the regional economy, serving over a quarter of a billion citizens and delivering high-speed mobile connectivity to huge swathes of the population," Michael O'Hara, GSMA chief marketing officer, was quoted in a news release.
"Our latest Mobile Economy report reveals how the widespread deployment of 4G networks in North America is creating a virtuous circle, stimulating adoption of new mobile technologies, applications and services that are unlocking new revenue streams for operators and enriching the mobile experience for consumers."