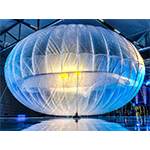 As Puerto Rico struggles to regain cell service in the wake of Hurricane Maria, the Federal Communications Commission (FCC) has granted an experimental license for Project Loon, led by Google's parent company Alphabet, to help provide emergency wireless service in the U.S. territory.
Project Loon is a network of balloons that provides connectivity to users on the ground. The Project Loon website says that auto launchers are capable of safely and consistently launching a new balloon every 30 minutes. Through Project Loon, Alphabet says it has flown over 19 million km of test flights to date since the project began – with one of the balloons surviving for 190 days aloft in the stratosphere.
Project Loon uses high-speed internet transmitted up to the nearest balloon a telecommunications partner on the ground, relayed across the balloon network, and then back down to users on the ground.
According to the website, Project Look has demonstrated data transmission between balloons over 100 km apart in the stratosphere and back down to people on the ground with connection speeds of up to 10 Mbps, directly to their LTE phones.
Now that the experimental license has been approved, it will attempt to initiate service in Puerto Rico. Project Loon obtained consent agreements to use land mobile radio (LMR) radio spectrum in the 900 MHz band from existing carriers operating within Puerto Rico.
"More than two weeks after Hurricane Maria struck, millions of Puerto Ricans are still without access to much-needed communications services," said FCC Chairman Ajit Pai in a prepared statement. "That's why we need to take innovative approaches to help restore connectivity on the island. Project Loon is one such approach. It could help provide the people of Puerto Rico with access to cellular service to connect with loved ones and access life-saving information. I'm glad the FCC was able to grant this experimental license with dispatch and I urge wireless carriers to cooperate with Project Loon to maximize this effort's chances of success."