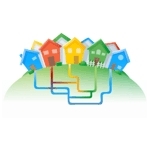 Google has been steadily expanding their Google Fiber footprint in the Kansas City metro area, recently adding Olathe and Shawnee, both located in Kansas to their FTTH overbuild. Now word comes that Google is expanding again, this time on the Missouri side of the Kansas City metro area. Grandview, Missouri is the newest Google Fiber community.
Like Olathe and Shawnee, no specific launch timetable has been set for Grandview. "It will still be awhile before we can build Fiber in Grandview—we need to plan and engineer our network there first," says Rachel Hack, Community Manager, Google Fiber on the Google Fiber blog. See eligible Kansas City metro Google Fiber communities in the below map.

View Kansas City Areas Eligible for Google Fiber in a larger map
With these expansions, Google is also expanding the competitive implications for Google Fiber in Kansas City. They now will compete with several incumbents, including AT&T, Time Warner Cable, Consolidated/SureWest, and Verizon among them.
Beyond Kansas City, Google has announced Google Fiber plans for Austin, Texas and Provo, Utah.