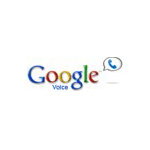 Google began a phased launch of Google Voice yesterday. They are sending out invitations to a select few. Others can request an invitation. No word on when Google will open the service to anyone. The Google Voice (GV) experiment is an interesting one. At its core, GV is disrupting the very nature of telephone numbers.
Historically, telephone numbers have been associated with locations – your home, work, and a cell phone(if your old enough to remember, cell phones started out as 'location' numbers too – we called it a car phone). Most adults have multiple location numbers associated with themselves.
What GV disrupts is replacing those multiple numbers with a single telephone number. It may represent the first legitimate mainstream assignment of a single number to a person, conceivably providing that number for life. Behind the scenes, you can program that single number to synchronize with all your legacy 'location' phone numbers, which may change over time. Think of it as your 'digital' social security number.
There are some wrinkles to this approach. For example, how will companies deal with this issue – will they allow employees to list their GV number on a business card or email signature line, or will they mandate only official company business numbers can be used? What about traditional phone company directories, both print and online? Will GV make them even more irrelevant? Most importantly, consider the telemarketing hell that could come from your GV number ending up in all those databases. Can your GV number get placed on the Do-Not-Call list?
In some regards, location telephone numbers were on their way out even before GV. Contact databases on wireless phones and office productivity software are more apt to identify and connect by names, not telephone numbers. The GV premise only accelerates this ongoing trend. It's too early to predict GV's true impact. As a product, it may have little impact – time will tell. One could argue that Google has a shotgun approach with Internet apps – they're all over the map hoping something will stick. GV could easily lose favor and become low on the totem pole in Google's march to rule the Internet. But if nothing else, GV is a potential leading indicator of the future of phone numbers, where people get assigned a single number for life. Sound familiar?