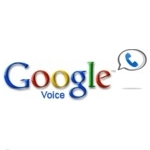 We've chronicled Google's feature rich Google Voice application in depth. The latest chapter sees Google opening up the availability of Google Voice to anyone in the U.S. Previously, Google Voice (GV) was 'by invitation' only, although Google claims over one million GV subscribers already.
GV offers a glimpse into what many of us think is the future of voice services – a feature rich voice application that rides both broadband and wireless networks, adding tremendous utility to plain-old-telephone-service (POTS). The free service is not an IP Voice service, in the sense that you can drop your current phone service in favor of GV alone. Rather, it's an application deck that interacts with existing phone services. Many suspect that will change though and GV will eventually become a standalone IP voice service – no existing phone service required. We'll have to wait and see.
One thing that GV does teach legacy phone companies is that innovation in voice services is alive and well. GV and others like it challenge carriers to take a look at their own legacy service and strongly consider evolving it beyond POTS into a feature rich application that adds value for customers. One sure way to accelerate the 'dying on the vine trend' of POTS is to do no innovation to it.