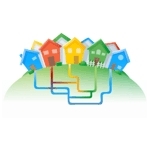 Google plans today to begin the process of laying fiber to support its highly anticipated high-speed network in Kansas City.
"At first we'll focus on building [a] solid fiber backbone," wrote Kevin Lo, general manager of Google Access, in a blog post. "Then, as soon as we have an infrastructure that is up and running, we'll be able to connect Google Fiber into homes across Kansas City!"
The network is planned to support 1 Gbps service to individual homes. That's a rate that far exceeds what most Americans can get today–although a few other networks capable of supporting 1 Gbps to the end user have already appeared.
Google announced plans in 2010 to fund construction of the ultra-high-speed network with the goal of creating a test bed for advanced broadband apps. After inviting communities nationwide to submit applications explaining why their communities should be chosen, Google settled on Kansas City, Kansas—later expanding its plans to also serve Kansas City, Mo.
Originally Google had hoped to begin network construction in the fourth quarter of 2011, but reported delays in gaining approvals put the project a bit behind schedule. Today's blog post did not discuss a potential completion date, but previously the company said it hoped to begin delivering service in 2012.
It's difficult to say what impact the network will have on these communities, considering that pricing for the service has not yet been announced. But we should have an idea of how the network might be used when Google reveals the results of its Gigabit Challenge—a contest launched last September inviting applicants to compete for $200,000 to develop the best new app or business plan to run over Google's Kansas City network.
Whatever transpires, Google's high-speed Kansas City network is likely to offer stiff competition to carriers that already serve the market—including SureWest, which announced today that it has agreed to be acquired by Consolidated Communications.