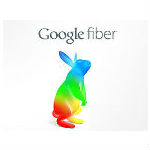 When Google launched Google Fiber several years ago, phone service was noticeably absent from their double play offer of broadband and video. That may change, with testing of Google Fiber Phone. The Washington Post managed to get a copy of a notice Google sent out to its Fiber Trusted Tester program, announcing the home phone service trial.
Google Fiber Phone appears to closely resemble Google Voice, Google's OTT phone service. In an invitation to its beta testers, Google highlights a few features of the service including:
A phone number that lives in the cloud. With Fiber Phone, you can use the right phone for your needs, whether it's your mobile device on the go or your landline at home. No more worrying about cell reception or your battery life when you're home

Voicemail the way it should be. Get your messages transcribed and delivered directly to your email.

Get only the calls you want, when you want. Spam filtering, call screening and do-not-disturb make sure the right people can get in touch with you at the right time.
No word on pricing for Google Fiber Phone. Adding phone service seems like it could be relatively easy task for Google, although the invitation says a home visit is required. The service can port an existing number, or establish a new one.
Google currently is in 18 markets, where they've either launched service (3), are designing and building a FTTH network (6), or exploring the possibility of launching Google Fiber (9). Google also has launched its own wireless service called Project Fi.