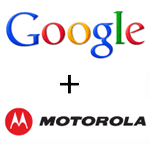 Google's plan to purchase Motorola Mobility, announced today, has been vaunted as a move that could strengthen Google's position in the smartphone and web TV market—but it doesn't look like a slam dunk to me.
Normally when we hear about the acquisition of a company that lost $56 million during the second quarter, as Motorola Mobility did, the discussion would be focusing on the acquirer's plan to turn the company around. But there was virtually no discussion along those lines in today's media coverage.
Perhaps because Google's second quarter revenues were more than $9 billion, everyone is hoping that the company will be able to absorb Motorola Mobility without much of a hiccup. Nevertheless, $56 million is a lot of money to attempt to recover through anticipated synergies—and there would seem to be a lot of pressure on Google to quickly make good on the proposed benefits of the acquisition. Not to mention the pressure on the management of Motorola Mobility, which Google plans to run as a separate business.
Telecompetitor has previously noted that Google seems to want to dominate all "screens" and Google seems to be betting that the Motorola Mobility acquisition will help advance that goal with regard to at least two potential screens—the smartphone and the web TV.
The Smartphone Play
Google's announcement this morning focused primarily on the smartphone side.
"Motorola Mobility's total commitment to Android has created a natural fit for our two companies," said Google CEO Larry Page in the announcement. "Together we will create amazing user experiences that supercharge the entire Android ecosystem for the benefit of consumers, partners and developers."
In a blog post, Page noted another less obvious but important driver of the acquisition. "Our acquisition of Motorola will increase competition by strengthening Google's patent portfolio, which will enable us to better protect Android from anti-competitive threats from Microsoft, Apple and other companies," he said.
Google made a point of reassuring the numerous other mobile vendors that use the Android platform. "Our vision for Android is unchanged and Google remains firmly committed to Android as an open platform and a vibrant open source community," said Andy Rubin, senior vice president of mobile at Google, in the announcement.
Light Reading Editor-in-Chief Phil Harvey had one of the more insightful takes on how the acquisition will impact Google's smartphone initiatives, noting that with so many manufacturers involved, Android until now has lacked a clear path blazer.  He argued that Motorola Mobility now may be able to play a role similar to the one played by Apple in promoting its smartphone platform.
The Web TV Play
Perhaps Page and his team avoided discussion of the potential advantages of the Motorola Mobility acquisition on the web TV side of the house because they opted for a show of strength and didn't want to attract attention to the slow progress that Google TV has made on that front.
It's also possible that Google has relatively low expectations for how much the Motorola Mobility acquisition could actually help Google TV. Yes Motorola traditionally has been a strong player in the set-top box market. But the set-top box manufacturers don't seem to drive that business to the same extent that smartphone manufacturers drive the wireless market. It seems to me that the cable companies are very much in the driver's seat when it comes to set-top box development.
Some have suggested that the combined strength of Motorola Mobility and Google could help drive a product to market that consumers would use to bypass their cable providers and jumpstart Web TV. But I think the combined company will want to tread lightly there so as not to upset their cable operator customers.
Keep in mind that when Verizon said it would allow mobile devices not in its own portfolio onto its mobile network, mobile device manufacturers were reluctant to pursue that option because they saw it as potentially jeopardizing their relationship with a key customer. I would expect the same dynamic to come in to play here.