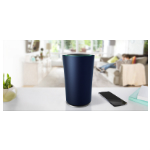 Is this Google Fiber or the Nexus smartphone and tablet all over again?
Google today announced OnHub – a new Wi-Fi router from networking equipment manufacturer TP-LINK that the Internet giant apparently had a hand in creating. As Google explains in a short video, the product includes a range of innovations intended to "make it simpler to get better Wi-Fi" – suggesting that the company, once again, is taking matters into its own hands because it is unhappy with the output of an industry impacting its core Internet content business.
Google OnHub
Looking over the OnHub specifications,  my first reaction was "Why didn't anyone else think of this before?"
Among the innovations:
The product comes in an attractive housing and is designed to be installed at eye level in the center of a room to enable better coverage
Customers download a smartphone app that helps simplify installation and troubleshooting
The product has intelligence built in which, when combined with 13 built-in antennas, is designed to reduce network interference and "optimize network connectivity"
Software updates are downloaded automatically
OnHub supports Wi-Fi standards 802.11b, g and n in the 2.4 GHz band. In the 5 GHz band it supports 802.11a, n and ac. It will hit the market within "coming weeks" and will sell for $199.95 through the Google Store, Amazon.com, Walmart.com and other outlets. Customers can pre-order the device now.
Google's Goals?
A Google spokesperson replied to an inquiry from Telecompetitor but did not answer a question about whether OnHub would be a profit center for the company or whether it was intended primarily as a means of improving users' experience with the company's online content. When Google  launched Google Fiber and Nexus (along with the Nexus-based Google Fi wireless service), the company seemed interested primarily in raising the bar for broadband providers and for the wireless industry, respectively. That could be the case again, here – particularly considering that Google is not building the product itself but instead has enlisted TP-LINK to build it. Google also promised an announcement of a similar nature later this year involving ASUS.
Google Fiber was highly successful in raising the bar for broadband providers, and I believe we'll see similar impact on the wireless market from Google Fi as well. And based on what I see about OnHub, it wouldn't be surprising to see Google go three for three.