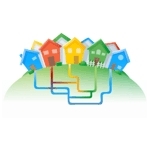 Google's launched a new social media site in support of its "Think big with a gig" plan– announced in February — to test an experimental ultra-high speed broadband fiber network in a locale a project team will select from public submissions. The company's Fiber Team has also posted a video on YouTube thanking everyone for their submissions.
The Google Fiber for Communities website is intended to inform and educate anyone interested about the broadband technology and government policies, as well as serve as a communications forum and platform to promote and support public advocacy at the community and individual levels.
Nearly 1,100 community and approaching 200,000 individual responses have been submitted to Google since it launched its open public campaign to find a place to build and test its experimental broadband fiber network, according to a post on the Official Google Blog.
Now in the midst of plowing through all the submissions, the Google project team anticipates announcing its "target community or communities" by year-end.