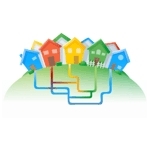 The broadband industry is watching the Kansas City market with great anticipation. Google is busy building their first broadband access network, which has come to be called Google Fiber. The FTTP network promises to offer symmetrical 1 Gbps speed. But what everyone is anxious to see is what type of applications will Google run over this network and who will they partner with?
Google gives progress updates on their Google Fiber blog. The latest news is a milestone of 100 miles of deployed fiber. Google also gave glimpses into their network architecture. Although the details are few, it appears as if Google is doing a point-to-point FTTP build, presumably with Active Ethernet technology. With only 100 miles complete, Google has a ways to go.
They are building a series of Google fiber huts throughout the city to presumably house fiber optical line terminals (OLTs), which will be connected to homes and businesses for the symmetrical gigabit connectivity.
Google looks to be laying the groundwork for its symmetrical connectivity, a feature which they will probably use as a competitive differentiator. John Toccalino, a Google Fiber construction manager comments, "…with Google Fiber, our users will be able to download and upload files at the exact same speed. Think about being able to upload that huge powerpoint presentation you made for work, or that video of your child's first steps in mere seconds!"