"Summer is just speeding up," wrote Nick Saporito, head of multi-gig and commercial product for Google Fiber, in a blog post yesterday to announce that the company has launched symmetrical 5 Gbps service in North Carolina.
The price of the service is $125 per month, he said.
"With our 5 Gig product, you get symmetrical upload and download speeds . . . along with a Wi-Fi 6 router, up to two mesh extenders, a 10 Gig Fiber Jack, and professional installation – all for the same price," Saporito wrote.
In addition, "as always with Google Fiber, you… have 1 TB of cloud storage, no data caps and no annual contracts," he said.
Saporito shares a screenshot from a speed test in Concord, NC showing a download speed exceeding 5.6 Gbps and an upload speed exceeding 5.9 Gbps.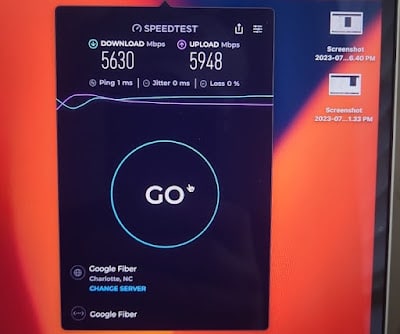 Saporito didn't specify the markets, but according to the Google Fiber website, the company offers service in The Triangle area of the state and in Charlotte.
The company announced plans for Huntersville, NC earlier this year, but it isn't clear if the company has not yet started to offer service there or if the company simply considers Huntersville to be part of the Charlotte market.
The North Carolina markets aren't the first where Google Fiber has launched 5 Gbps symmetrical service. Earlier this year the company launched 5/5 Gbps service in Kansas City, West Des Moines and in the Salt Lake City area.
The company also has launched 8 Gbps service in at least two markets – West Des Moines, Iowa and Mesa, Arizona.
According to Saporito, Google Fiber plans to launch both 5 Gbps and 8 Gbps in more markets. He didn't specify a time frame but in the blog post, he advised people to "stay tuned."