The Google Fiber strategy is adapting and expansion to any number of new markets appears to be on tap. Safe to say we really don't know what their next move will be.
Google announced they'll be bringing Google Fiber to parts of San Francisco. Rather than over build, they intend to use existing fiber to serve certain MDUs and other properties throughout the city. It's an approach they are also doing in parts of Atlanta (although they are also building their own facilities in Atlanta as well).
The days of strictly over building with fiber are clearly over.
Considering Google didn't even have San Francisco on their potential Google Fiber target list, one has to wonder where they will go next. Apparently any market could be in play.
"Now, as Google Fiber grows, we're looking for more ways to serve cities of different shapes and sizes," says Michael Slinger, Director of Business Operations, Google Fiber in a blog post.
This revelation may encourage many more communities with available fiber assets (either current or future) to invite Google Fiber to come in. Huntsville, Alabama just successfully did. It also has to make incumbent broadband providers nervous.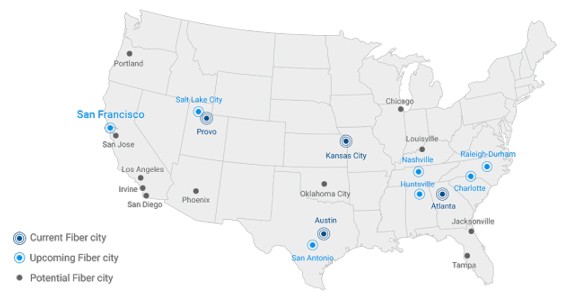 Google's model has always given them tremendous flexibility in how they serve markets. Some argue they're allowed to only offer service in areas that have the most promise, by utilizing their fiberhood approach.
They are now adapting this Google Fiber strategy to potentially cherry pick the best market segments, using existing fiber. If fiber assets are available, they could target the best high margin potential customers, and get competitive gigabit services (or less) to them more quickly, maybe even through a hybrid fiber – wireless approach.
In some ways, Google Fiber is taking a page from AT&T's GigaPower strategy, which targets certain developments and MDUs in its gigabit markets, rather than over building an entire market. This evolving Google Fiber strategy has significant implications for the broadband access industry. They are definitely keeping us guessing as to what's next and where.
Details on San Francisco are light for now. "We have a lot of work to do before we can offer details on service and timing, or identify the specific condos, apartments, and affordable housing properties that will be connected," says Slinger. But they did reveal they will be offering free service to certain public housing developments as they are doing in their Kansas City market.