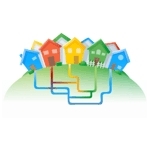 Google likes Kansas, considering it's announced yet another expansion of Google Fiber in the Kansas City area. Shawnee, Kansas is the latest market to get Google Fiber, the company announced on their blog. This expansion is on the heels of another Kansas City market expansion, announced in March for Google Fiber in Olathe, Kansas.
There is no timetable yet for Shawnee. "We still have a lot of planning and engineering work to do before we're ready to bring Fiber to Shawnee, so we don't have an estimate for when service will be available yet," reports Rachel Hack, Community Manager, Google Fiber on the Google Fiber blog.
As for Kansas City, the Google Fiber rush is on. According to the Google Fiber website, seven Kansas City fiberhoods are lit with fiber and four more are scheduled to come on line this month. On the Missouri side of Kansas City, six fiberhoods are lit with two more scheduled to come on line this month. Google counts 180 fiberhoods, at least for now, to be connected in total for Kansas City.