Google Fiber hasn't had much to say about fixed wireless access (FWA) since it acquired FWA provider Webpass in 2016. But in a blog post today, two Google Fiber execs offered some details about how the company is using Webpass technology to support a hybrid fiber/wireless approach to delivering service to multi dwelling units (MDUs).
Webpass technology works in millimeter wave spectrum, which supports high speeds over relatively short distances, the execs explain in the blog post. That makes it well suited for providing backhaul to MDUs as an alternative to fiber backhaul, they said.
Google Fiber's approach is to bring fiber to one building in a cluster of buildings that are interconnected via "small-but-mighty" radios on each rooftop.
"That makes it incredibly fast and easy to implement and still delivers remarkable speeds, which can be comparable to a fiber optic connection, so we can serve more units more quickly," the authors wrote.
"When we install these radios, we line them up so precisely that it's like perfectly aligning two tips of a very well sharpened pencil," the blog post explains. "Each radio acts as a transmitter and a receiver, like a wireless bridge – almost like fiber optic lines across town. . . The only tangible difference between fiber optic and millimeter wave technology is that while one uses glass cables to transmit internet nearly at the speed of light, the other uses air."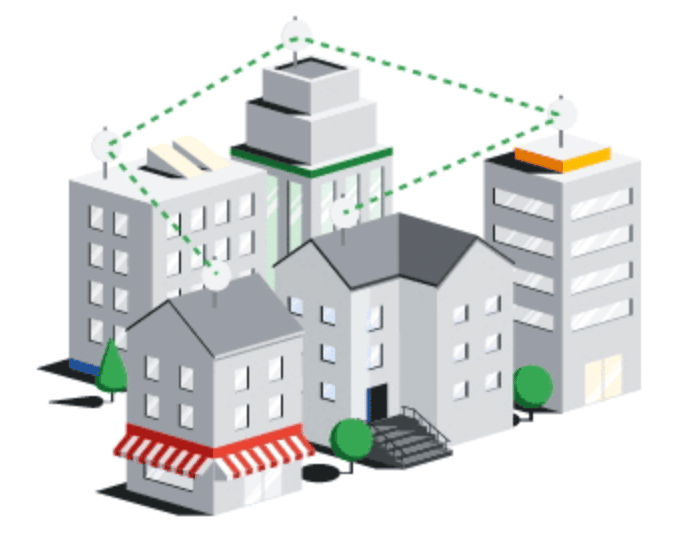 Why Tout This Now?
Google Fiber isn't the only broadband provider to use fixed wireless in the millimeter wave band to serve MDUs. Another company that has used that approach is Starry, which developed its technology in house and has claimed to achieve take rates of 25% within the first year of offering service to a building.
Despite this success, Starry has encountered financing challenges in recent months and is poised to be delisted from the New York stock exchange after an unsuccessful initial public offering.
Perhaps Google Fiber will get more aggressive about its MDU fixed wireless offering now that Starry has scaled back on its expansion plans.