After a high profile pause, Google fiber is back and its next target market is Louisville, Kentucky, according to Louisville mayor Greg Fischer. What's not clear though, is how Google fiber intends to serve Louisville – through FTTP, fixed wireless, or some combination of both.
Late last year, Google announced they were halting all announced Google fiber expansion plans and even laid off staff members. Since then, there has been a change in leadership as well as open discussion regarding a potential shift to fixed wireless as an access technology for any future deployments.
Google acquired Webpass, an existing fixed wireless provider and conventional wisdom suggests that fixed wireless may be their preferred technology moving forward. Especially given the high cost of overbuilding cities with FTTP.
Louisville Google Fiber
Louisville has a sweet spot in Google's heart, given the city took on incumbent providers with their 'one touch' policy regarding pole access to existing broadband facilities in a move to make it easier for new entrants like Google fiber. AT&T and others took the city to court on that issue, which has yet to be resolved.
In some ways there is an obligation for Google fiber to follow through in Louisville, and it appears they are doing just that. But how? Google is mum regarding their Louisville plans, but they have begun fielding interest from Louisville residents and have established a webpage for collecting data.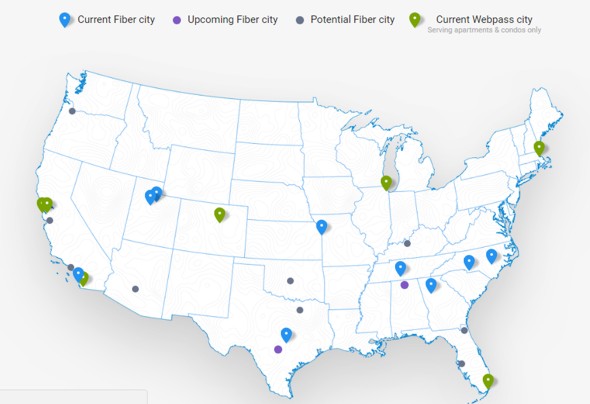 The mayor's press release gives Google some wiggle room regarding how they intend to serve Louisville. "Google Fiber plans to test innovative new ways to deploy super-fast Internet, such as the microtrenching technique already approved by the city. Google Fiber is also working on advancing wireless capabilities that would connect communities even faster."
It goes on to say Google will release details of their Louisville deployment at a later date. In response to an Insider Louisville request about their Louisville plans, Google responded with "The start of construction is an exciting moment for Google Fiber in Louisville. Building a new fiber network is a big job, and we're grateful for the continued patience and support of the city's residents and leaders. Working with our partners, we can't wait to continue to develop creative ways to bring super fast connectivity to Louisville."