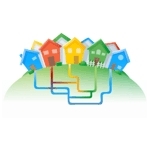 Homes and businesses in parts of south and southeast Austin, Texas can now sign up for Google Fiber ultra-high-speed broadband service. And according to a Google blog post, "This is just the beginning. We'll be opening new areas of the city for signups on an ongoing basis, and we hope to bring Fiber to every neighborhood in Austin that wants it."
Google Fiber customers will pay $70 a month for symmetrical gigabit service that includes a terabyte of cloud storage. For $130 a month they can add 150 TV channels with the ability to record up to eight shows at once. Both options entail a $300 construction fee but Google waives that fee if customers sign up for a year of service.
The company also highlighted its basic Internet service offering 5 Mbps downstream and 1 Mbps upstream at no monthly charge for customers that pay a $300 construction fee, with payments spread over a 12-month period.
Google Fiber Launch
Google demonstrated a sense of humor with this week's launch, playing on the Cyber Monday theme with its blog post headline "It's Fiber Monday in Austin." And the company's marketing plan didn't stop there. To support Google Fiber in Austin the company has opened a "Fiber Space" in downtown Austin where potential customers can try out the service. The company also is hosting a series of events around town where people can learn more about Google Fiber offerings.
Google's marketing staff also took care to include a call for action in the blog post. "Keep in mind: you'll have a limited window of time to sign up," the company wrote. "We do this so that we can bring you Google Fiber as quickly as possible. We focus our efforts on one neighborhood at a time, doing an all-out installation blitz if your fiberhood meets its signup goal, After we're finished in your fiberhood, we'll move on to the next."
"Fiberhood" is the term Google coined for its roll-out scheme, which calls for specific neighborhoods to qualify for a deployment based on the number of residents in the neighborhood who express an interest in signing up for service.
When Google initially launched gigabit service based on fiber to the premises in Kansas City a few years ago, its offering appeared quite revolutionary. But a lot has changed since then. Google was the first but by no means the only network operator to announce plans to offer ultra-high-speed broadband in Austin – and some of the other network operators beat out Google in launching service in that market.
Austin competitors now include AT&T, Grande Communications and Time Warner Cable. Time Warner Cable's service only supports 300 Mbps downstream and 20 Mbps upstream  – but with the applications used today, many customers may be unlikely to notice a performance difference.